July 6, 2014 - 12:58pm
Car vs. motorcycle accident with injuries reported on Pearl Street Road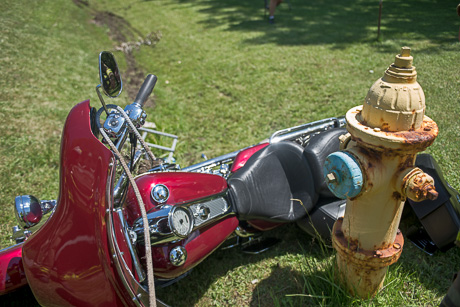 A car vs. motorcycle wreck with injuries is reported at 3904 Pearl Street Road. Town of Batavia fire and Mercy medics are responding.
UPDATE 12:59 p.m.: Mercy Flight is on ground standby at the Batavia hangar. The location of the accident is between Donohue Road and Treadeasy Avenue.
UPDATE 1:09 p.m.: Mercy medics are transporting one patient to the hangar. A second ambulance is called to the scene.
UPDATE 1:12 p.m.: The second ambulance is cancelled and the first rig will transport two patients to ECMC. Mercy Flight was cancelled.
UPDATE 2:45 p.m. (by Howard): According to Deputy Joseph Graff, it appears at this point in the investigation, that a Harley-Davidson and a Mercury Sable were both westbound on Route 33. The car slowed and proceeded to make a left-hand turn into a driveway and the motorcycle appears to have attempted to pass the car on the left. The driver of the motorcycle reportedly told deputies that the car had pulled to the shoulder before turning left. The car was turning into the driver's in-laws' residence and a neighbor said the driver had been to the residence many times. The motorcycle struck the driver's side front fender and sheared off the front bumper. It proceeded westbound into a drainage ditch on the southside of the road, struck a culvert and dislodged a piece of rebar that became caught on the bike's handlebars. The bike came to rest just inches short of a fire hydrant. The female passenger reportedly suffered a serious leg injury. The male driver reportedly asked to be a sign-off, but was transported to ECMC with his passenger as a precaution. The names of those involved have not yet been released.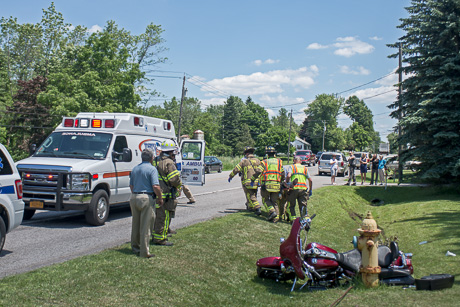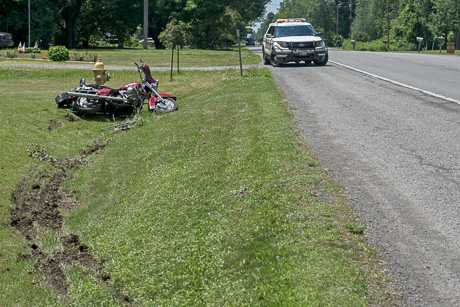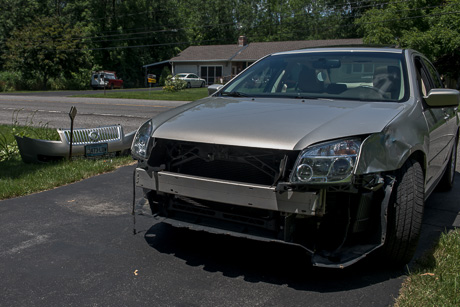 Why do people have to swing wide right or left when making a turn.....your driving a car not an 18 wheeler.....grant it the motorcyclist was wrong if the car had a left turn signal on but never understood the wide swing