July 29, 2014 - 3:07pm
Le Roy fire's treasurer accused of stealing close to $50K from department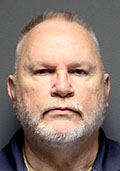 Dennis Snow
Press release:
New York State Comptroller Thomas P. DiNapoli today announced the arrest of Dennis Snow, the treasurer of the Le Roy Fire Department in Genesee County. Snow was charged with two counts of grand larceny in the third degree (class D felony), 42 counts of forgery in the first degree (class C felony) and two counts of falsifying business records in the first degree (class E felony) for allegedly stealing nearly $50,000 in public funds.
"This individual blatantly abused his position and went on a spending spree with public money," DiNapoli said. "It is alarming that my office continues to uncover instances such as this where local officials misuse their office for their personal benefit. I commend the village of Le Roy Police Department and District Attorney (Lawrence) Friedman for working closely with my staff to make sure this individual is held accountable for his actions."
DiNapoli's office found that Snow allegedly made unauthorized transfers, withdrawals and deposits from the department's account, as well as from the firemen's benevolent association. Snow used the money to pay his personal bills and admitted that he forged the required co-signers signatures in order to complete his theft. The audit is expected to be finalized in the next month. Snow is due back in court on Aug. 13.
July 29, 2014 - 11:06pm
#7
From the link provided in Comment #5:
A Cuomo campaign spokesman denied any involvement in a push poll, insisting, "Those types of Nixonian dirty tricks are not something Democrats in New York would engage in."
WOW!! That spokesman must be one busy guy. Let's assume half of the voters in NY are democrats. So, according to that spokesman, he must've asked approx. 8, 000, 000 people if they would use those "Nixonian dirty tricks"? Does anybody really believe that? Is there anyone, so out of touch with reality, that they think that spokesman can speak for ALL of NY's democrats? Believe it or not, I personally know a couple NY democrats, and they were NEVER asked by anyone if they would use tactics like that.
And, again, from the same link:
"He also noted that, tactically, it was far too early to use such a push poll as a campaign tactic, since "a push poll is not something that happens on July 19, months before Election Day.''
I think he forgot to add, "Not that we would do that, of course".