September 17, 2014 - 7:49pm
True high-speed Internet finally coming to Batavia
A family-owned communication company that has provided phone service in Genesee County for more than 100 years is bringing true high-speed Internet to Batavia.
Empire Access, an affiliate of Empire Telephone, with a location in East Pembroke, is installing fiber optics throughout the city.
The network will be able to deliver business and residential service with download speeds of 100 megabits and upload speeds of 20 megabits.
Verizon DSL only offers a 10mb down and 1mb up service in Batavia and Time-Warner's top-end service locally is 30mb down.
Senior VP Jim Baase said the prices will be better, much better, too. That 100mb/20mb service will cost only $50 a month.
This is the sixth market Empire is introducing high speed Internet in, Baase said.
"We've had great success competing against companies like Time Warner and Verizon," Baase said.
Business customers can order high-speed Internet now from Empire, said local manager Tom Hare, and delivery is about 30 days out currently.
The first neighborhood to get residential service will be in the northeast quadrant of the city, Hare said, starting in about three our four months. The rest of the city should be covered within six months.
Empire is also offering phone service over the fiber network, as well as cable TV and security systems.
All of the regulatory hurdles at the state and federal levels have been cleared, Baase said, and Empire is just starting negotiations with the city for a cable franchise agreement.
As previously reported, the city is also in the midst of negotiating a new agreement with Comcast.
Empire Telephone is a third-generation, family-owned business based in Prattsburgh. For most of its history, it's been a rural telephone network in such places as East Pembroke, Pembroke and Indian Falls where it has some 700 telephone customers (that area is also scheduled to receive a fiber network service from Empire).
Baase said Empire decided to bring a fiber because it's an open market (Verizon has shown no interest in introducing FiOS here) and it will have a large enough customer base to support the network.
"It's a very attractive market for us," Baase said. "It's densely populated and we don't like to over build where there's FiOS. We don't like to go where there's already a company like ours."
On its marketing material, Empire Access bills itself as "The Local Company," and Empire will have an office in Batavia (while maintaining a switching station in East Pembroke, where the office was located). Baase said Empire will employ people locally and hire more and more people as its local network grows.
Another Empire advantage, Baase said, is when you call customer service your call is immediately routed to a real person, rather than a long telephone tree of button pushing.
Empire has plans to expand into other parts of the county, primarily along Route 5, once the Batavia network is built.
Interested business customers (not residential yet) can contact Tom Hare at (585) 813-9861 or [email protected]. (e-mail address corrected)
Top photo: High speed fiber-optic cable ready for installation in Batavia.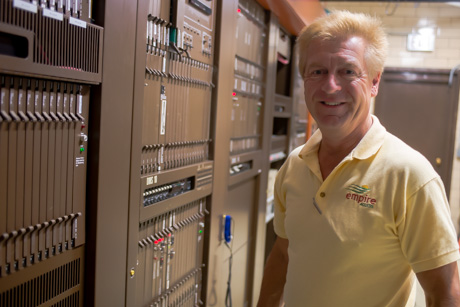 Tom Hare in Empire Telephone's current switching room in East Pembroke.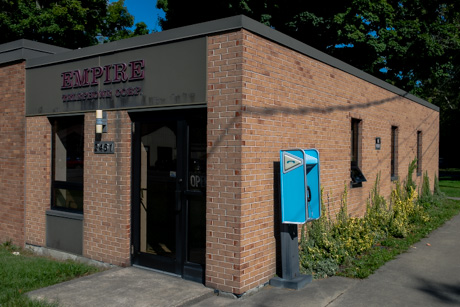 Empire Telephone's longtime facility in East Pembroke.
September 17, 2014 - 9:49pm
#7
50 bucks a month???....sorry I wont be buying that....my speed is just fine with tw I don't need blazing speed.....now if they lowered it to say....35 a month I would jump in