Image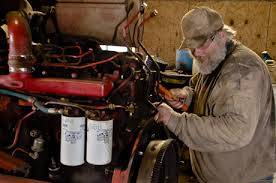 File photo of Douglas Mess by Howard Owens.
There's nothing Bill Baskin wants more right now than justice served in the murder of his friend and key employee Douglas Mess.
The body of the 52-year-old Attica man was found buried under a manure pile on his farm at 1229 Exchange Street Road on April 20.
Baskin, owner of Baskin Livestock on Creek Road in Bethany, seems to know a lot about the case, but he's not sharing any of it for publication for fear divulging more than Wyoming County District Attorney Donald O'Geen is willing to disclose himself and jeopardize the prosecution of Charlene Mess, Douglas's wife, who has been held without bail since her arrest April 20.
A grand jury is hearing the evidence against her today and we should know within days whether she will face a trial as the alleged murderer. It may take a trial to publicly unravel the mystery of how Douglas Mess died and why. Some news reports say his death was a culmination of an argument that got out of hand. Some people who know Charlene Mess say she was domineering within her family. Friends of Douglas Mess, including Baskin, use words like "Teddy Bear," and say he was a man who just loved to farm and work on machinery and rarely had a cross word with anybody.
Farming and fixing things were pretty much how Mess spent all of his time, said friends and family. When he wasn't in a shop shoulder deep in steel and grease, he loved to be alone on a field driving a tractor, and about his only hobby was collecting models of the tractors he owned or repaired.
Mess was born in Rochester and spent the first 10 years of his life in the Town of Victor before his father bought a dairy farm in Castile. That's where Mess fell in love with farming, working with animals, driving tractors, but most importantly, learning how to fix farm machinery.
Like a lot of farmers, the Mess family liked to save a buck by repairing their own equipment and keeping it operational longer than perhaps normal wear and tear would dictate. 
By the time he was a teenager, by all accounts, Mess was a natural at the kind of tinkering that kept heavy equipment in tip-top shape.
After his father sold the farm, Mess took jobs at other farms before landing at a dealership in Alexander. He worked there 18 years, establishing himself as the go-to-guy on all kinds of repairs.
The job afforded him the chance to get manufacturer training, particularly on skid loaders, and further hone his own skills.
He may have had a photographic memory, according to Susan Blackburn, Baskin's wife and business partner. She said Mess could look at a part and tell you on what page it could be found on in a particular parts catalog.
"I've spent a lot of time at a lot of universities," Blackburn said. "He had a high school education and he was the most intelligent men I've ever known. The guy was very, very intelligent and just as humble as anybody you've ever known."
Baskin first met Mess while he worked at the Alexander dealership. At the time, Baskin Livestock was still a young company with just a couple of employees, but already, Baskin knew he needed somebody full-time to work on his farm equipment.
When Mess let Baskin know he was ready for a change of scenery, Baskin hired him on the spot.
At the time, the repair shop was Mess and one other guy who worked on the delivery trucks used in the feed side of the business.
"At one point in time he thought we did not have enough work to keep him busy," Baskin said.
By the time of his death, Mess supervised a shop of six people repairing farm equipment, trucks and all the machinery used in the feed operation. He was Baskin's go-to-guy on nearly all aspects of the business.
"About every decision I had to make, in some way shape or form, I had some input from him," Baskin said. "Not every decision, but a huge percentage of the decisions I had to make, I relied on him for some percentage of the input to make that decision. He had a good feel for the big picture and the details."
There was little Mess couldn't do with machinery, from design of equipment used throughout the operation, to the creation of parts and tools, to taking something that was out of service and getting it to run again.
"He was a MacGyver type," Baskin said. "If there was something he couldn't fix, we had a problem, a real problem."
Mess had four sons, all of whom in one form or another have followed in his footsteps. Three of them work for Bill Baskin. Douglas G., the oldest son at 29, said he admired his father's love for what he did and how well he did it.
"He loved taking something that was broken, not even running, taking it apart and putting it back together like it was new, even better than new," Douglas said. "He was proud of that. 'I fixed it. It's usable again.' "
The oldest son said he'll never forget his father's mischievous smile. He loved a good practical joke and he enjoyed watching trainees trying to figure out how to fix something Mess could easily piece together himself. 
"He'd let you work on it a little while and then come over and show you," Douglas said. "'Hey, this way's a little quicker and a little easier,' and he was always right."
A frequent target of Mess's joking around was Jackie Murphy.
Murphy and Mess worked together daily over the past four years, starting with Murphy's transfer from the front office to an office in the repair shop, at about the time Mess's supervisory duties had him sitting at a tan metal desk a little more and spending a little less time loosening or tightening bolts or welding this part to that.
Mess teased Murphy about her boyfriend's loyalty to International Harvester (Mess was a John Deere man) and one of his favorite jokes to play on her was to make up names for new truck drivers, letting her use the made-up name for weeks until she figured it out herself, such as the Marty she called Theodore until she finally met him in person.
That joke would be worth at least two days of laughter.
"He was a funny, amazing guy," Murphy said.
And helpful. Clearly, nobody knew more about what parts were in the shop than Mess. At inventory time, he helped Murphy with the task. He would teach her anything she needed to know to do her job better.
He was always big-hearted with everybody around, she said.
That's how Douglas remembers him, too, and how he was recalled at his funeral service, Douglas said, which was attended by more than 350 people.
"You know the saying, give somebody the shirt off your back, he was the guy who did that," Douglas said. "He met other people's needs before he met his own."
How do you replace somebody like that, Baskin wondered.
Right now, the duties of Mess have been divided among four different workers. 
"Will we have at some point in time somebody with that ability?" Baskin said. "Sure, maybe. Everybody's replaceable, including me, but he ain't walking in the door tomorrow. (Mess) brought a big skill set with him and he learned and grew a lot. He learned as the business grew. His knowledge grew and his ability grew. That's hard to just drop somebody in that spot."
Baskin said Mess was like a member of the family, and he was bigger than Baskin, but younger.
"He was the big little brother I never had," Baskin said.
The loss of Mess is being felt throughout the company by all of the employees, Baskin said. 
"We've got guys who are really, really good and really, really competent," Baskin said, "and the comment's been made by more than one of them, 'I'm comfortable with what I'm doing and I like what I'm doing, but there are a lot of times where I got to the point where I had to ask him, 'what do you think about this or what do you think about that?' and who are you asking now?' "
As fast as the business has grown, it hasn't always been gold-dappled mornings over green, rolling hills around Baskin Livestock. There have been some tough times, but nothing compares to the murder of Douglas Mess.
"We've had two fires, got a guy, 52 or 53, who worked for us, who died in his sleep, and another guy we were quite close to who committed suicide, and this was the worst," Baskin said. "There are 85 and 95 guys who die all the time, they had a good long life and it's not unexpected and unnatural, but this was a complete shock, nonsense."
Which is why Bill Baskin doesn't particularly want to discuss the details of the legal case against Charlene Mess. There's stuff he may know because he's close to the situation, but he will leave that to the professionals in law enforcement to handle.
Douglas Mess can't be replaced, at least not easily, but justice can be served.
MARK YOUR CALENDAR: There will be a benefit for Doug Mess's boys starting at 4 p.m. on Saturday, June 13, at the Alexander Firemen's Recreation Hall, located at 10708 Alexander Road in Alexander. Enjoy a delicious spaghetti dinner for $10, eat in or carry out. Tickets are presale and also available at the door. There will be 50/50 raffles, basket raffles, and a baked goods table. Enter for a chance to win a trip to JAMAICA! (7 night, all-inclusive for two, including airfare) For more information or to buy tickets, call Jackie Murphy at (716) 481-6662.