June 9, 2015 - 2:22pm
Two vehicle accident on corner of Main and Center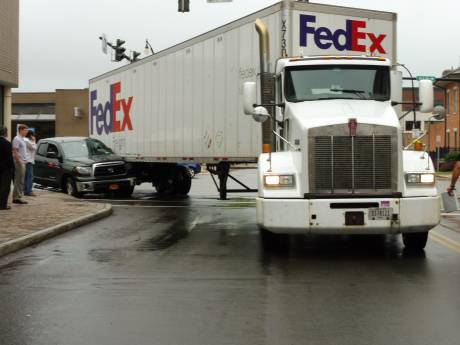 An accident involving a FedEx tractor-trailer and Toyota Tundra pickup truck happened on the corner of Main and Center. The FedEx tractor-trailer was making a wide right turn and collided with the pickup turning right. There were no injuries.
"What I know so far is the semi hit the truck so were investigating," Officer Jason Davis said.
"It looked like he made a left second turn," said Azem Dobrodoli, driver of the Toyota Tundra, "I didn't notice he was turning right until the last second. I slammed on my brakes and there it was."
Dobrodoli didn't notice if the truck had a left-turn signal on.
June 10, 2015 - 11:05am
#2
I'd like to know what Mr. Dobrodoli's attention was focused on for several seconds before that last second. If he were looking forward he should have seen the tractor going around the corner long before the trailer's wheels got there.
I also don't understand why there would be an expectation of a left turn signal being on if the truck was turning right, and maybe somebody can tell me what a "left second turn" is too, that's a new terminology for me.