November 26, 2015 - 12:32pm
City resident blames new long rifle law for bullet hole in family room window
posted by
Howard B. Owens
in
batavia
.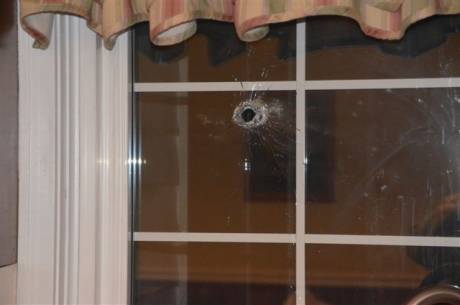 Bill Moon came home to his house on Bank Street, City of Batavia, Saturday evening to find a bullet hole in a family room window. A neighbor said he heard the shot ring out between 4 and 5 p.m.
Fortunately, Moon said, nobody was home at the time, but he blames the county's new law allowing long rifles to be used during deer season.
He said Batavia PD, a Sheriff's deputy and a Department of Environmental Conservation officer responded and agreed the shot likely came from a .30-caliber rifle, such as a .30-30 or .30-06.
The bullet passed through the family room and into the kitchen.
A spokesman for Batavia PD confirmed a complaint was filed and law enforcement responded, but said the investigation is being handled by the DEC. We were unable to reach the DEC for further information.
Photo submitted by Bill Moon.
November 28, 2015 - 10:28pm
#9
Two posts on here claim that a second house was also hit by a stray bullet... why wasn't/isn't this reported here?
Aside from the finger-pointing, the fact remains, deer hunting with high powered rifles now is law in Genesee County. There now are guns being used to hunt deer [which often involves shooting the target while on the run], whose bullet range distance is 3x to 5x that of a shotgun slug. The possibility [probability] that a stray bullet will hit much further from it's intended target is a sure thing. Will it happen? It already has. Will it happen often?? Let' hope not.
Accidents happen... preventable accidents are not really accidents.