December 9, 2015 - 2:14pm
Settler's scores big with new mac and cheese dishes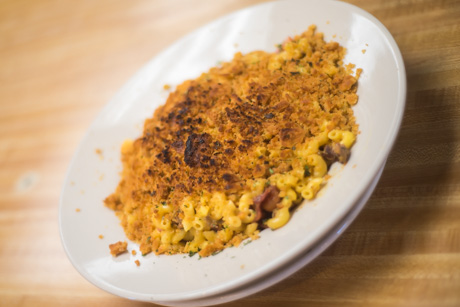 What started out as a daily special has become a daily staple at Settler's Restaurant -- Mac and Cheese.
"We'd see it around other places and thought we would give it a try," said John Spyropoulos. "People love mac and cheese these days. It's kind of a fad. We tried it and people loved it."
The eight-item special mac and cheese menu will be incorporated into the restaurant's regular menu next month, Spyropoulos said. 
"We're already known for our homemade soups and our Greek salads, so if this becomes one more thing we're known for, that's good," Spyropoulos said.
The choices on the menu are:
Homemade Mac and Cheese
Buffalo Chicken Mac and Cheese
Philly Steak Mac and Cheese
Tomato and Bacon Mac and Cheese
All-American Mac and Cheese
Broccoli Mac and Cheese
Hot Dog Mac and Cheese
Stinger Mac and Cheese
Settler's regulars might detect a theme to the menu -- the options match many of the recipes on the restaurant's sandwich menu.
John's wife, Miranda, created the cheese sauce (milk, cheddar and American cheese, white pepper and garlic powder), but what really tops off the huge bowl of elbow noodles is the Ritz-cracker crumb topping.
"Now we have to make cheese sauce all the time," Miranda said. "We're going through gallons and gallons of milk and butter."
December 9, 2015 - 5:51pm
#2
Mac and cheese has been a fad for over 60 years as best I can attest too. It started when I was two and continues to this day. It's a fad like that Rock and Roll music was a fad. Now all they need is some of the Freedom Onion Soup on the menu.