March 15, 2017 - 12:13pm
Immigration advocates rally in Batavia prior to deportation hearing for activist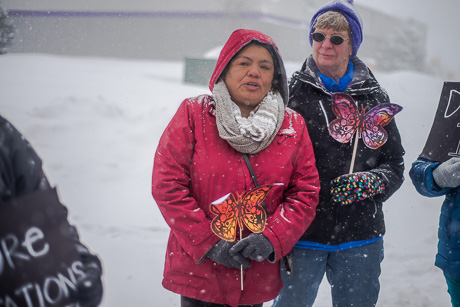 About a dozen people rallied in support of Dolores Bustamante this morning outside of the Buffalo Federal Detention Facility in Batavia.
Bustamante, who lives in Sodus, was scheduled for a deportation hearing and supporters were concerned she was being targeted because of her work with the Workers Center of CNY following President Donald Trump's executive order on immigration.
In a short statement before her hearing, Bustamante said she was hopeful that President Trump is serious about only going after immigrants who are criminals because, she said, she is not a criminal. She came to this country to get away from an abusive spouse and provide a better life for her daughter.
At the hearing today, Bustamante was allowed to stay in the country but ordered back to the immigration court in two months.
Another worker activist with the Workers' Center, Jose Coyote Perez, is currently being detained, according to Rebecca Fuentes.
Fuentes said Perez was administratively cleared to stay in the country in September and obtained a work permit and a Social Security number and was in the process of getting a driver's license when he was detained.
She said Perez was assaulted by a coworker at the dairy farm in Livingston County where he's employed and as a result, Perez contacted local law enforcement. Officers responded but made no arrests and left it to the parties to work it out amongst themselves.
The next day, she said, Perez was ordered by ICE to report to Batavia to fill out paperwork. She said officials told him it was just routine and he had nothing to worry about. He was detained the day he turned up, Feb. 24, and has been in custody since then.
He has a hearing at the end of the month, she said, and there will likely be another rally at the facility to support his cause.
In 2014, Bustamante was stopped by a trooper for a traffic violation and as a result was turned over to immigration authorities. Bustamante and members of the Workers' Center participated in a campaign that led to an executive memo that prohibits troopers from asking citizenship status during routine contacts.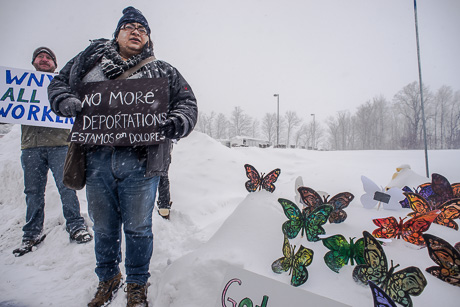 March 15, 2017 - 5:23pm
#8
Jim. If that's all the information you have about him, you'll probably have a hard time locating him.
I ran into something (kind of) similar, four months after I moved to Florida. The only two people I knew down here went back to the Genesee County area for the summer. One week after they were gone, it dawned on me that, if something happened to my cell phone, there was (basically) only one (NY) phone number that I had memorized (it had been my family's phone number since 1965). Without that, I would have had to call someone like the Sheriff's Dept., to have them "relay" a message.
That very day, I opened 2 more email accounts, with different service providers (hotmail & frontier). That way, if, say, hotmail "bit the dust", I still had 2 active providers.
Then I created a text document, listing all my "contacts" information, including names, addresses and phone numbers. I emailed that text document to all 3 email accounts. That way, I only have to be able to log onto any of my email accounts, and there's a list of every phone number I need. Now, any time I acquire a new phone number (that I think I may want to keep), I open my text document on my laptop, add the new number, and "re-email" it to my accounts.
I have a friend (Bob) who lives in Rochester. For the longest time, I couldn't get ahold of him (he had switched his phone number, and he didn't have an email address). I finally came across a co-worker's old email address that I hadn't used in years. He was friends with the Bob, so I sent him an email asking if he'd drop by Bob's house, and have Bob call me. He did, and, as soon as Bob called, I got two of his brother's phone numbers. Should it happen again, I can call one of Bob's brothers to get in touch.
I guess what I'm trying to say is, if you have people that you figure you might (ever) want to keep in contact with, try to get their friends and family's numbers also. Otherwise, it's like looking for a "needle in a haystack" (without a magnet).