Image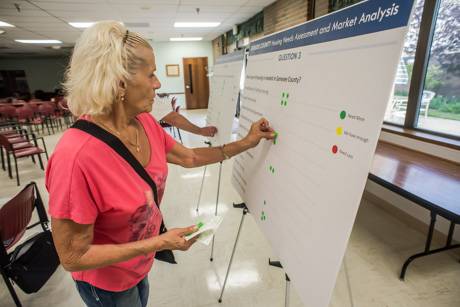 It takes good data to make good decisions and a lot of times when planners are considering housing projects, the developers with the proposals are the ones who have all the data.
A new housing needs assessment for Genesee County will help solve that problem, said Felipe Oltramari, the county's planning director. 
"(Developers) are not going to come into a market where they know there is no need," Oltramari said. "They did their own study, but it's a private study that is focused on their segment of the market."
As part of the needs assessment process, the county hosted an open house at the Senior Center on Bank Street last night, which gave the residents who attended an opportunity to provide feedback on what they see as local housing issues, whether it's too much stock in one place, or of one type, or not enough of something.
Oltramari said the comprehensive study will also use interviews with various stakeholders in the community, whether they be veterans' groups, groups that serve seniors, the disabled and business groups. Officials and consultants will also try to identify the housing needs of Millennials. The goal is to get a broad picture of what is needed, which will help guide planning decisions and maybe uncover undetected needs.
"When a study like this happens, you will be able to put that information out there for some developers who may not be looking at this area," Oltramari said
The study is expected to be completed by December.
Oftentimes developers look at census, sales data and current housing patterns to identify a need in a community -- that same data will be gathered for the county's assessment -- and then try to fit a project into that community. But in a small community such as Genesee County, there are potentially niche needs that private developers won't uncover on their own. The county's housing needs study could identify a potential need and make that information available to developers who might decide trying to fill that need could be profitable.
"We want to make sure we're looking at all segments of the market," Oltramari said. "One thing we heard, especially when Muller Quaker came, there was no housing for executives and lot of them ended up living outside of the county. When STAMP comes, we want to make sure the same thing doesn't happen."
The county's own study will also be used to confirm, or not, what private developers say is a local need. For example, when DePaul Properties was still pursuing a $25 million project on East Main Street in the City, CEO Mark Fuller said DePaul had identified needs in the city for more housing for disabled people, seniors with diminished mobility and veterans. Asked where those people are now, Fuller said they are most likely living with parents or in substandard housing.  
That could be an example of a market need that isn't readily apparent to most observers, but solid data could help identify.
(The project was stymied by a City Council decision not to change the zoning of the property from industrial to commercial.)
"They (developers, such as DePaul) know that and they might do their own research and come to that conclusion, but we haven't seen that research," Oltramari said. "I'm sure there is probably that need, because they have a business model and they have to make sure the project is going to work, so there is some evidence, you have to trust that. But it's nice to really have the tool to show 'yes, there is that need and this is something we should support as a community.' "
Image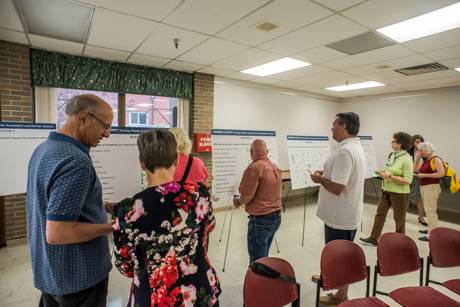 Image
Image