July 24, 2017 - 5:13pm
Man who abused girl admits he came to a late understanding that he alone was responsible for his crimes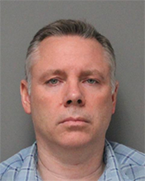 Scott Reed
After hearing his victim call him a monster and a disgusting and sick person, Scott Reed cried as he told Judge Robert Zambito in Genesee County Court this morning that he's come to realize there is nobody to blame but himself for his 10-year course of sexual abuse of a girl in Elba.
Reed came to that realization only after undergoing psychological therapy. 
When he was first arrested, and in his first meetings with officials, he blamed his victim for approaching him first.
She would have been less than 11 years old at the time.
"This is all my fault," Reed said. "No matter how I slice and dice it, it all comes back to me. I did this."
In the process, he's destroyed his marriage and broken up his family, according to statements from Reed and attorney Benjamin Bonarigo.
Zambito heard from his victim through a videotape that had been supplied to the court and to the defense prior to today's hearing.
The victim detailed her years of abuse by Reed and, though she said she knew her request for a harsh sentence wouldn't change the outcome of the case, she said Reed should get a year in prison for each of the 10 years he abused her.
The 51-year-old defendant came into court in faded blue jeans, a short-sleeved white dress shirt, and dark tie. He read a written statement and started to sob some as he recalled how he came to realize that he was totally responsible for his own actions and the damage it caused. 
"I hope she can get the help she needs and go on with her life," Reed said.
He entered a guilty plea in April to a course of sexual conduct with a sentence cap of six months in jail and 10 years probation, which is exactly what Zambito did.
Mindful of Reed's long-standing employment that he could lose if sent to jail for six months, and the need for Reed to continue providing financially for his family, Zambito said he couldn't justify a weekend incarceration arrangement or shorter term.
"I can't overlook that this went on for 10 years," Zambito said.
The judge said he hoped, given Reed's reputation as a productive employee, that his job will be waiting for him when he gets out or that he will be able to find suitable employment.
Reed was arrested in May 2016 along with his wife Deborah S. Reed, 52, of Elba. Deborah Reed eventually entered a guilty plea in Elba Town Court to endangering the welfare of a child.
Arrested at the same time in Wyoming County was Reed's son Jonathan M. Reed, 23, who was charged with several counts of second-degree rape, second-degree criminal sexual act and endangering the welfare of a child in the Town of Perry, and with second-degree rape, third-degree rape and third-degree criminal sexual act in the Town of Lancaster. 
Jonathan Reed eventually entered a guilty plea and was sentenced to two and a half years in prison.
July 24, 2017 - 8:17pm
#2
6 MONTHS in jail for RUINING a young girl's life??? 10 YEARS of sexual abuse??? WTH is this world coming to? This PREDATOR should be LOCKED in a CAGE for at LEAST ten years and have to register as the sex offender that he is FOREVER!!!!!!!! What is wrong with the legal system to let this happen? This girl was younger than 11 years old when this guy started abusing her! Because he is suddenly sorry, and sees that it was HIS fault he gets a slap on the wrist??? Really??? Excuse me while I got vomit now! SO sorry for the victim and her family. I hope she can get some peace and heal and recover from this evil CHILD PREDATOR! This is sickening.