September 13, 2017 - 3:45pm
Accused drug dealer granted release under supervision while awaiting legal proceedings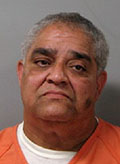 Adner Davila
A 62-year-old man facing multiple drug-dealing charges is being released from jail while awaiting further legal proceedings after a bail review hearing before Judge Charles Zambito in County Court this afternoon.
Adner P. Davila, of West Main Street Road, Batavia, scored well enough on a bail evaluation worksheet that he was deemed not a flight risk and eligible for release under supervision of Genesee Justice.
The bail evaluation is based on numerous factors such as ties to the community, potential jail term if convicted, appearance record on prior charges and prior charges, if any.
In Davila's case, he does have six prior felonies, including three violent felonies, in his past, as well as a failure to appear, but those charges were years ago and were not really a factor in his bail evaluation.
Davila is charged with two counts of criminal sale of a controlled substance, 3rd, five counts of criminal possession of a controlled substance, 3rd, one count of criminal possession of a controlled substance, 7th, and one count of criminally using drug paraphernalia. 
During his release under supervision, Davila is confined to his residence at a trailer park on West Main Street Road, except for doctor's appointments. Upon request, Zambito also granted him permission to visit DSS to recertify his Medicaid eligibility, with notification of the trip to Genesee Justice.
September 13, 2017 - 4:26pm
#1
Only 6 prior felonies? Then , by all means, give him home confinement. It will be easier to sell drugs from his home anyway..