December 9, 2017 - 7:14pm
Photo: Foxprowl 'pop up store' at Falleti Ice Arena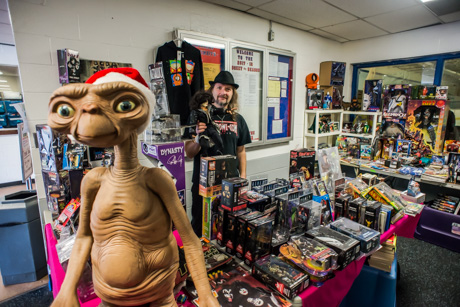 Bill Hume popped up in Falleti Ice Arena today with a "pop up store" for Foxprowl.
It's the second time he's set up a retail location in Falleti and he said later this month he will do what he's calling a "flash store" inside Record Revival on East Main Street.
Earlier this year, Hume shut down his permanent retail store at Jackson and Main, Batavia, but sees the trend for "pop up stores," which are common in metropolitan areas, as something he would like to see catch on Batavia.
December 10, 2017 - 2:21pm
#1
Ridiculous.
The warm room at the rink is crowded enough WITHOUT all this crap.
The guy's business isn't successful enough to keep a store open so THIS happens??
Go "pop up" in the Mall or somplace else.
December 10, 2017 - 2:47pm
#2
Why not... it's part of the DRI.