April 13, 2018 - 11:55pm
Convicted felon charged in Arby's armed robbery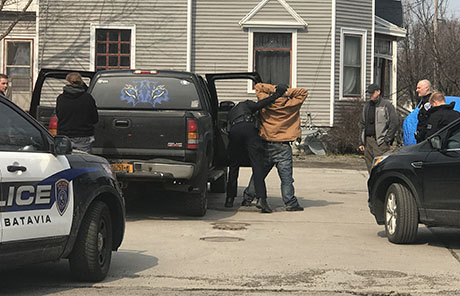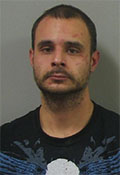 Michael Piasta in  2010
More than seven years ago, Michael J. Piasta stood before Judge Robert C. Noonan and said he thought he could turn his life around.
"At this point, I just want to say I don't feel that I'm hopeless," Piasta told Noonan before receiving a maximum state prison term of seven years for burglary. "Regardless of what happens today, I think I can make things better."
Piasta served the maximum term. He was released Oct. 24.
In March, he allegedly robbed the Arby's Resturant in Batavia. Today, he was arrested by Batavia PD with assistance from members of the Local Drug Task Force.
He is charged with robbery in the second degree, criminal possession of a weapon in the third degree, and grand larceny in the third degree.
He allegedly got away from the Arby's robbery March 23 with more than $6,000 in cash.
When he was arrested on West Main Street, three other individuals were in the truck with him. Batavia PD did not release any information on those individuals or whether they were charged with any crimes.
Piasta was jailed without bail following arraignment in City Court.
When he appeared before Noonan in 2010, Piasta already had a lengthy criminal record. 
On Nov. 5, 2010, Piasta entered a guilty plea to burglary, 3rd, and two counts of criminal possession of a forged instrument. Piasta also admitted that he broke into a business at 56 Harvester Ave., Batavia, and stole a credit card -- running up more than $500 in charges -- and checks. He attempted to forge the checks at two local banks.
That summer, Piasta was also accused of stealing DVDs from Pandora's Boxx and shoplifting from Wilson Farms.
April 15, 2018 - 2:13pm
#4
The vast majority of people who are convicted of crimes fit one of two categories -- sociopaths and drug addicts.
Longer prison sentences won't stop either of them from committing crimes.
The sociopath doesn't care and the drug addict isn't thinking about the consequences.
We've been losing the drug war for 40 years. We got tougher with drugs and the drug problem is worse than ever.
I know you've heard it before, the definition of insanity is doing the same thing over and over expecting different results.
If you love big government and more and more money being drained from the pockets of taxpayers with worse results, then, yes, by all means, let's lock drug addicts up for longer periods. Let's continue to make sure people who commit minor drug-related violations get criminal records so it's harder for them to join the military, get into a good college, get better job training, get hired into good paying jobs, and find there isn't much better to do with their lives than keep taking drugs.
That strategy has worked so well for us so far, hasn't it?
BTW: There's nothing conservative about proposals that grow government and deliver poor results.