April 15, 2018 - 5:20pm
Award-winning photojournalism in Batavia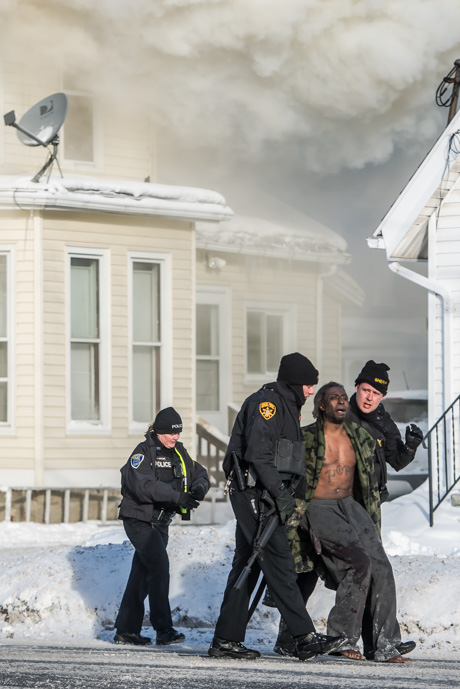 A news photo by Howard Owens, publisher of The Batavian, has been selected by the National Press Photographers Association as the best spot-news photo in the nation for the month of January.
The photo, of Eddie Miles in handcuffs being taken from the scene of an apartment fire on Washington Avenue he is accused of starting, was previously selected as the NPPA's best spot-news photo in the New York/International Region.
The NPPA divides its membership among several regions and photographers are invited to submit photos in regional monthly contests for spot news, general news, sports, features, and other categories. The regional winners are eventually judged in a national contest.
Over the past five years, Owens has had several pictures selected for first, second, or third place in spot news and general news.
He isn't the only Batavia-based news photographer who competes in the contest. Mark Gutman of the Batavia Daily News, is also a frequent entrant. He's won several awards from NPPA and in January captured three third-place awards in sports feature, sports action, and general news. Many of Gutman's awarding-winning shots, which includes prizes from the Associated Press, can be seen on his website.
In an era of fewer local news outlets and smaller photography staffs at newspapers around the country, Genesee County is one of the few news markets in the nation with still-news photojournalists working at competing news organizations.
The photojournalism of Owens is also featured in the current edition of News Photographer Magazine, a publication of the NPPA. A photo he took in October of the Wilson High School Football Team pushing against a school bus that had become stuck on a sidewalk was printed across two pages in a section at the front of the magazine called "Opening Shots." The picture was the region's winner in October for spot news. It took second place nationally that month.
UPDATE: I completely missed this at the times the awards were announced -- the two shots Mark Gutman had for sports feature and sports action that took third place in the regional competition actually moved up to second place in the national competition -- so for January, he had two-second place shots nationally.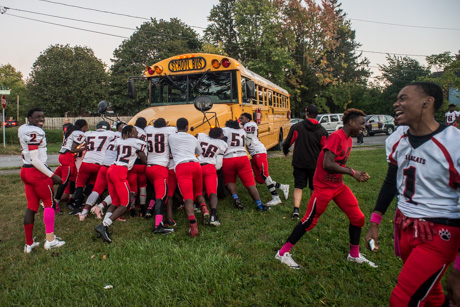 April 21, 2018 - 5:32pm
#11
I missed when the awards went up -- because I didn't look at the other categories -- for the national awards that Mark Gutman got two second-place awards in January, for shots that two third place in the regional competition. I updated the post to note this.