May 18, 2018 - 10:09pm
Local business owner accused of giving gun to 17-year-old who allegedly shot man on Central Avenue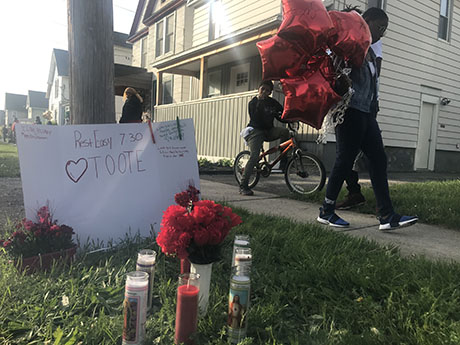 Jennifer Urvizu-Hanlon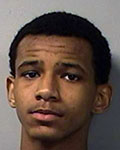 Samuel Blackshear
The Central Avenue murder and attempted murder investigation stemming from last night's melee on Central Avenue in the city took an unexpected turn today.
A 48-year-old local businesswoman and a 17-year-old boy, who was found this afternoon at her residence on West Main Street Road in the Town of Batavia, were arrested in connection with the shooting of Nathaniel D. Wilson Jr.
Jennifer K. Urvizu-Hanlon, owner of La Mexicana store in Valu Home Plaza, is accused of providing a gun to Samuel R. Blackshear during the confrontation on Central Avenue last night; and Blackshear allegedly shot Wilson in the leg with that gun.
Urvizu-Hanlon is charged with criminal liability for conduct of another/criminal possession of a weapon, 2nd.
Blackshear is charged with attempted murder, 2nd, attempted assault, 1st, assault, 2nd, and two counts of criminal possession of a weapon, 2nd.
Additional charges are possible.
According to Batavia Police Chief Shawn Heubusch, police were able to charge Urvizu-Hanlon based on video evidence. A video camera installed on Central Avenue earlier this week captured the entire incident. Urvizu-Hanlon, Heubusch  said, was on Central Avenue at the time of the incident.
"Her activities at the scene were she provided the weapon that was used in the shooting," Heubusch said.
Asked if the video showed her physically transferring the weapon from her possession to Blackshear's, Heubusch said, "I can't disclose that information as that's probably going to be part of the legal process." 
Urvizu-Hanlon was the registered owner of the gun and permitted bearer of the weapon, Heubusch said. He did not say whether the weapon was recovered during searches today but did say evidence was recovered from the searched locations.
Heubusch said investigators have yet to discern the nature of the relationship between Urvizu-Hanlon and Blackshear.  
Blackshear and another unidentified male were located at Urvizu-Hanlon's residence this afternoon.
That residence is a small yellow house on property owned by Upstate Toyota and next door to the dealership. Urvizu-Hanlon is a rental tenant.
Heubusch said, however, that investigators have not established that Blackshear was living there. He is officially listed as "no permanent address" and Heubusch said he tended to stay with other members of the community, as well.
Wilson, the man injured by the gunshot, was arrested after being released from the hospital and charged with murder in the stabbing death of Terry J. Toote, a 41-year-old Batavia resident whose last known residence was on West Main Street.
Urvizu-Hanlon, Blackshear, and Wilson are all being held without bail.
Batavia PD was able to bring all three into custody in less than 17 hours after the stabbing and shooting.
"Our guys did phenomenal police work," Heubusch said. "We had a lot of a lot of evidence to go through. They had a lot of witnesses to talk to. And it's still not done. But I'll tell you that they did a tremendous job overnight, and taking care of all of the issues that were at hand, and handling the other calls for service."
Heubusch also credited the assistance of the Sheriff's Office, State Police, the Orleans County SWAT (which assisted the Genesee County ERT), the Department of Environmental Conservation, and city fire for assisting at the scene last night and throughout the investigation.
"I can't speak highly enough about the cooperation in this county," Heubusch said. "Any time you need something, you give the sheriff or somebody else a call and they're going to send some people your way."
Another subject who was found at the West Main Street Road residence was released after questioning and is not a suspect, Heubusch said, though he may be a witness.
There is still investigative work to be done and Heubusch is asking witnesses to come forward and residents in the area who have video of the incident to supply it to investigators.
That said, it is likely that the primary suspects from Thursday night have all been arrested.
"The video evidence that we received and that we viewed was pretty clear," Heubusch said. "We do not believe that there are any outstanding suspects in this case."
Whether the incident last night is related to prior incidents on Central Avenue over the past few weeks is still unclear. There may be some connection, Heubusch said, but it's not clear which prior incident threads to a connection with this incident.
"We're still investigating as to what was the motive leading up to it," Heubusch said. "There was a large disturbance that took place down there. There was a fight between several individuals -- the deceased, the suspect that was arrested for that crime, as well as a suspect that was arrested for the shooting. There were other individuals involved in punching and kicking and that sort of thing. But it looks like there was a large fight."
Heubusch agreed it's striking that of all four individuals police have connected to this incident -- Toote, Wilson, Blackshear, and Urvizu-Hanlon -- none are residents of the Central Avenue/Pringle Avenue area of Batavia, though all four have long-standing ties to the community.
Why Central Avenue has become a flashpoint in the past several weeks is hard to pinpoint, but Heubusch said police are doing what the can to address the issues.
"I certainly can't deny that there are problem areas," Heubusch said. "That is something that we have been anxiously working on to try to solve the issues in that particular neighborhood. When it came to our attention that there were several instances of disturbances down there we took measures to increase the lighting in that area. We took measures to put up a street camera down there, which was essential in capturing the evidence that led us to the conclusions here. So you know we did as much as we possibly could."
Ultimately, brighter lights, cameras, and more patrols won't solve neighborhood problems without the cooperation of the residents who live on problem streets, Heubusch acknowledged.
"We would like to see is more community interaction," Heubusch said. "If you see something you need to give us a call. Don't be afraid to take back your neighborhood, so to speak. That's what we need. We need people to be proactive. We need neighbors to take care of neighbors and not hide from things like this. We will do whatever we can to protect you but come forward; otherwise, we can't charge these folks and get them out of your neighborhood."
Top photo and second photo, from a vigil on Central Avenue, by Howard Owens. The next photos of the vigil courtesy our news partner 13 WHAM.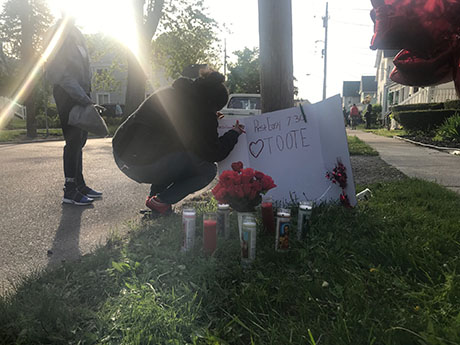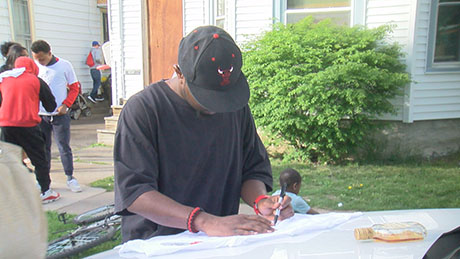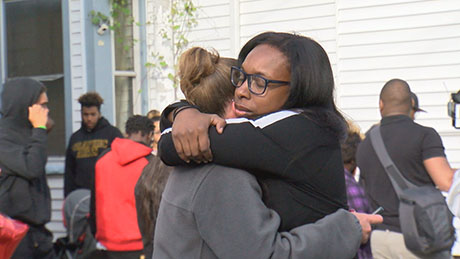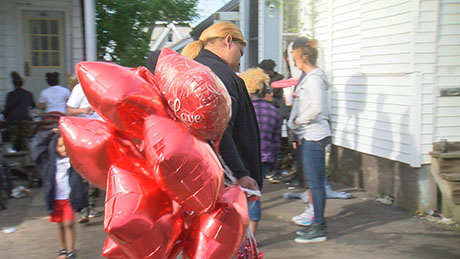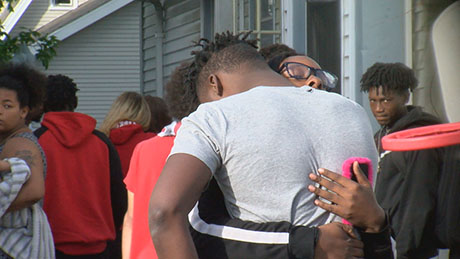 Have any of you people learned right from wrong or good vs evil???
I find this comment distasteful and inappropriate but I can't see where it unequivocally breaks any of our rules so (sigh) I'm leaving it.
May 19, 2018 - 10:38pm
#3
Really, Howard?
And, to think, I was just about to reply, "Yes, Candace. I have."
I guess it all depends on who you assume she was asking.