September 10, 2012 - 11:48am
Batavia yoga masters team up to teach future teachers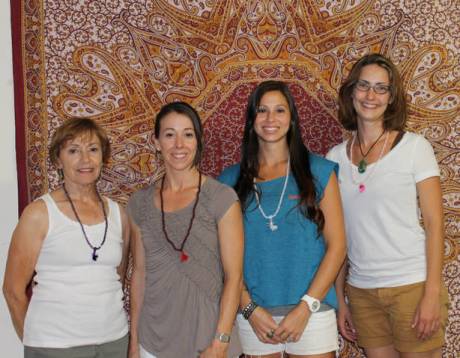 Batavia's Blue Pearl Yoga and Exhale Yoga recently teamed up for a 200-hour training of future yoga instructors. Rebecca Cohen (second from left), of Exhale, and Karen Reisdorf, of Blue Pearl, presented certificates last weekend to their three graduates: June Martino, Tess Garland and Maura Gilsinan.
The training was done in increments of four days a week for eight weeks, six hours a day, followed by a week-long "final exam."
Included were formal study (180 hours of class time and 10 hours of homework) and a "practicum" component (about 10 hours) where candidates had to observe and teach classes.
"It is quite an achievement for these ladies," Cohen said.
Yoga may look easy to outsiders, but no one can learn how to teach it without getting to know its complexities.
"You are trying to get a group of people to all move together and breathe together," Cohen said, "(and to) improvise a series of yoga poses, while asking them to push their muscles and joints to their safe limits."
Altogether, according to Cohen, there are about 900 body poses in yoga "if you include the variations."
She described yoga as "a great low-impact form of exercise that works every muscle in your body, and really improves core strength."
"It improves coordination and balance," she said, "because it is practiced barefoot and the poses are performed on one side and then the other, bringing balance to both sides of the body."
Yoga also makes use of deep breathing exercises.
"Yoga can certainly be just a physical exercise," Cohen said, "or it can be a physical exercise to connect you with your spirituality. It depends on your intentions."
Cohen always begins and ends her lessons by asking everyone to take a moment to reflect on his/her intention.
"(This) gives us a chance to remind ourselves of what we are grateful for and an opportunity to remember that in order to achieve personal growth, we need to stay focused on that goal or intention every day."
For anyone interested in future yoga instructor training, the cost is about $2,000 -- $1,800 for the training itself, plus an additional $200 for books.
For more information, call Cohen at (716) 316-9869 or email [email protected]. You may also contact Reisdorf at 343-1257 or e-mail [email protected].
Photo taken by Karen Reisdorf