August 31, 2014 - 1:29pm
Local moms start group to help kids, families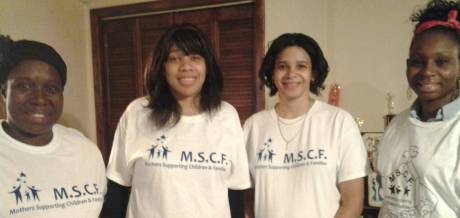 From left: Iris Hatcher, Jessica Polk, Jessica Simmons and Kenyetta Reese.
Leave it to a group of mothers to figure out what their community needs, and then to do something about it.
Pictured are the four founding members of "Mothers Supporting Children and Families" (MSCF), a new nonprofit designed to "provide inspirational support and positive direction to children of all ages" and "empower children and families" (per their mission statement.)
Polk, the WSCF president, said she conceived the idea during a dinner party at her Batavia home.
"There were a bunch of us mothers there," she said. "We got to talking -- Jessica (Simmons) had had the idea for a long time about doing something for the youth in the community to get them off the streets and doing something productive."
Polk and her friends were concerned about what appeared to be an increase in instances of local youth getting in trouble -- "and at a younger age" -- in recent years.
In order to help address this problem, she and her fellow MSCF moms are joining forces with Care-A-Van Ministries, a local Christian street ministry.
"They were extremely instrumental in giving us spiritual guidance from the very start," Polk said.  "They've taken us under their wing, and they've given us advice on how to start a nonprofit. We ask for their advice all the time."
Elsewhere in their mission statement, they name an important aspect of how they intend to address the problem of troubled youth: "MSCF lends a helping hand to the community so there are fewer children in unhealthy home dynamics."
Ways of positive self-expression, adult role models, and trusted adults that kids can come to with their concerns if, for whatever reason, they cannot go to their parents or legal guardians, are among what they seek to offer young people.
"And I hope that we, as an organization, will be able to show them the different resources available to them that they may not know of," Hatcher said." We want to guide them into whatever they need to relieve that pressure that is causing them to get into trouble."
But their mission is not limited to kids; rather, it is founded on "the concept of parents helping parents" and "promotes positive parenting, and healthy families."
MSCF is open to all families in Genesee County. Despite the group's name, Polk wanted to make it clear that men are welcome to be involved as well (they just cannot be official members).
Hatcher said that eventually, they would like to be able to arrange for situations in which families and children can get together for fun and socialization.
"We just have to get on our feet first and get our name out there," she said.
For more information on MSCF:
Web site: www.mscfmothers.wix.com/mscf-
Twitter: www.twitter.com/MSCFMOTHERS
Facebook: M.S.C.F. Mothers
Email: [email protected]
People can also contact Polk at 300-3804.
Photo submitted by Jessica Polk.