Image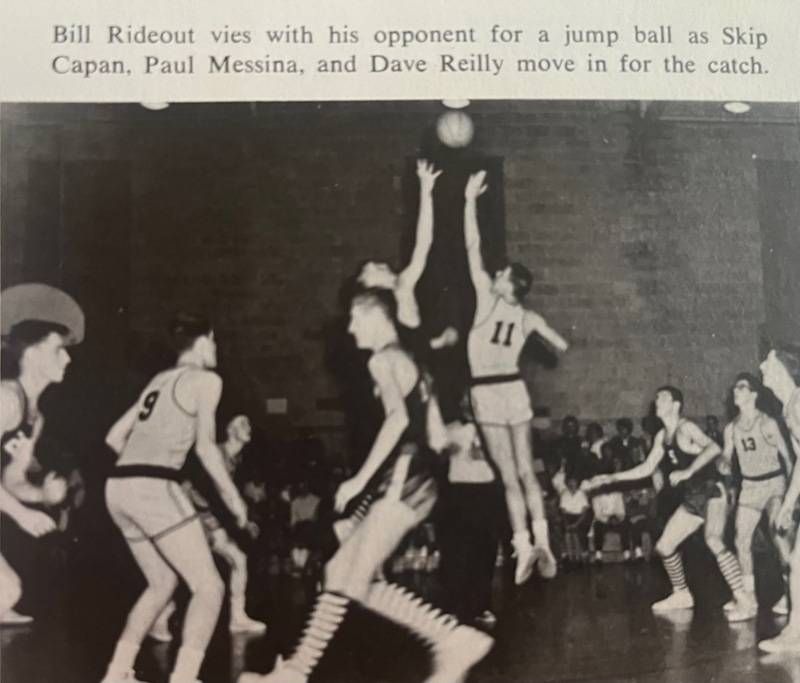 In Part 1, published on May 16, I detailed my love of sports as a kid and replaced my short and disastrous high school football career with a more enjoyable experience on the Notre Dame cross-country team.
Roundball Remembrances
A big accomplishment for me in my sophomore year was overcoming my diffidence and fear to try out for the Junior Varsity basketball team. I was 6 feet 3 inches tall, and my friends kept goading me to give it a shot (no pun intended). Making it difficult however was the fact that my hoops skills were limited to making a right-handed layup and tying my Converse high-top sneakers. Fortunately for me, the coach was the aforementioned Pete Corbelli and since he knew me from cross-country, we had a good relationship. Somehow Coach Pete put me on the team (to the dismay of a few other guys who were probably better players), and I always thought maybe it was because he saw a kid who needed a boost in confidence. I will always be indebted to him for his kindness.
Again, I don't remember much about any of the games that season. I just recall feeling like a possum in the headlights every time Pete would put me in the game because I pretty much had no idea what I was doing. As the year went by, I must have learned some basic skills just by going to practice every day. The thing that made me the happiest was that I got to be part of a team, even if didn't get to play very many important minutes.
In my Junior year, I wasn't eligible for JV anymore (even though that was probably my skill level), so I had to try out for the Varsity. The coach was Lucien "Lou" Lodestro, so I couldn't count on Corbelli to sneak me in again. Unbelievably to me (and probably to a bunch of guys who got cut), I made the team. 
I remember approaching the team roster Coach Lou had posted on the gym door with trepidation and just standing there stunned when I saw my name. I guess inheriting tallness genes from my dad (the rest of his brothers and sisters were short) made the difference. Being six foot three was sometimes a pain (feet hanging over the end of the bed, hitting my head on low-hanging light fixtures, dancing with shorter girls if I could even work up the nerve to ask them), but in this case, it worked in my favor.
Image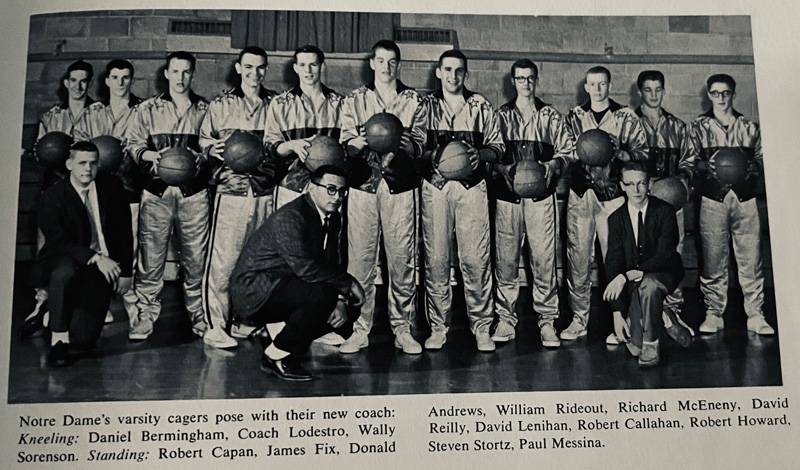 I don't know our team record from that year, but I'm sure we had a losing one. Coach Lou gave me some decent playing minutes, and it always put a big smile on my face if I scored (rarely) and the cheerleaders would break into, " Ho Hi Sip Si, Dave Reilly, he's our guy." The season highlight was making the winning layup in one home game on a pass from senior teammate Don Andrews who had stolen the ball. Why I was in the game at the end is a mystery. Maybe some guys had fouled out, or a mysterious illness had swept through the team.
One of the good things about having been part of a team is the shared memories that you and your teammates have, including humorous ones. 
One of our games was in Buffalo against St. Mary's School For The Deaf. This was a small private school that served a particular type of clientele and had probably under 100 students. One of their players was named Bob Sheak, and he had received a lot of press in Buffalo for his achievements on the court. Some of us, thinking we were funny, were joking about him on the bus and in the locker room, saying that he would probably come out in a turban (Sheiks wear a traditional headgear called a keffiyeh but we were ignorant high school boys) and a robe with a harem of cheerleaders. Well, he came out all right in a regular uniform and scored a bunch of points, and they beat us. 
That night was another bunch of lessons learned about life by us.
Another funny incident (although not at the time) was when our old team bus broke down at a Thruway toll booth. Our athletic director, Father Dave Scheider, got the whole team out of the bus by exclaiming," What are you guys waiting for? The bus isn't going to start itself!" and we collectively pushed it until our long-time driver Gordon Judd popped the clutch and got it started. That must have made quite the scene for passing drivers. We had to laugh through our embarrassment.
A completely ridiculous thing a few of us did after school and before practice was to sneak outside to Soccio Street to have a cigarette in brothers Bill and Jack Bishop's old car they drove to school. Were we nicotine-addicted fiends? Not at all. We actually only took a few drags because we were rushed for time and didn't want to get caught. Personally, at that time, I bet I didn't even smoke 10 cigarettes a week. Why did we do it? Why do teenagers do a lot of silly things? A bit of rebellion, a bit of trying to get away with something, maybe.
On one occasion, Father Scheider did catch a couple of us smoking outside the gym exit door, and we got suspended for a game. Taking away my less-than-stellar production was not going to hurt the team, but I think I stopped sneaking smokes after that because I was embarrassed and felt I had let Father Scheider (who was a good guy) down.
A couple of humorous memories of Father Dave: When he was coaching (he had been an outstanding athlete at Batavia High) or just cheering us on from the stands or sidelines, if he got upset with something we did, he would yell out, "C'mon you pork chop!" That was his priestly epithet of choice. I think a local restaurant at the time should have had Father Dave Pork Chops on their menu.
One year in basketball, a number of us had started making the sign of the cross for luck before shooting free throws. After a few games of this, Father Scheider addressed it in the locker room in no uncertain terms." Knock that stuff off pork chops! You do the playing, we'll do the praying." 
He was a character for sure.
Senior Struggles
In my Senior year, 1963-64, either Lou Lodestro or the school decided that coaching both football and basketball was too much for one man, so a former Niagara University player named Don Satterly was hired for the hoops job. This move turned out badly for me. Coach Lou must have realized that we didn't really have the talent to win a lot of games, so he tried to give everyone (even me) a chance to play. Coach Satterly had different ideas and spent the season trying to overachieve. His management style could be summed up in one pre-game speech he gave," Hey, you guys. Some of my friends are coming to the game tonight, so don't embarrass me."
We were having a miserable season, and I was playing very little, if at all. I understood that I wasn't very good, but when we were losing by 25, and I didn't even get in at the end for a couple of minutes, it was very defeating. I came to practice every day (and then had to take the city bus to the other end of town and walk half a mile to my house) and worked as hard as anyone else.
The final straw came after a Friday night away game at Le Roy. There was a big crowd, including a lot of our fans (many of our students, including some teammates who came from Le Roy to our Catholic school), and as we entered the court, the Le Roy Band (we didn't have a band) broke into the Notre Dame Fight Song. Being a huge ND fan since I was little, this actually gave me goosebumps. 
Well, we were 1-9 at the time, and it didn't take long to see that we were going to be 1-10. In the last few minutes, we were down by 20, and there I sat on the bench, watching the seconds tick away. All the pre-game warm feelings had evaporated into a mixture of sadness and anger.
I can't remember if some words were exchanged with the coach in the locker room when we got back to Batavia, but it would have taken a lot of nerve from a shy kid like me to speak up. I guess I probably muttered, "I quit" and walked out the door.
Afterward, I fumed all that night and all day Saturday. I knew I had to do something to stand up for myself, though. 
The following day on Sunday, there was an away game at Cardinal Mindzenty in Dunkirk, which was 90 miles away. Our team manager, Wally Sorenson, had a car, and I found out he was going to drive there on his own. I asked if I could go with him, and my act of defiance was to sit in the crowd and let the coach see I was there. I didn't do anything overt or cause any problems. I just wanted him to be aware of me. He probably didn't care much, but I did. It was a sad end to a disappointing season and experience for me.
Image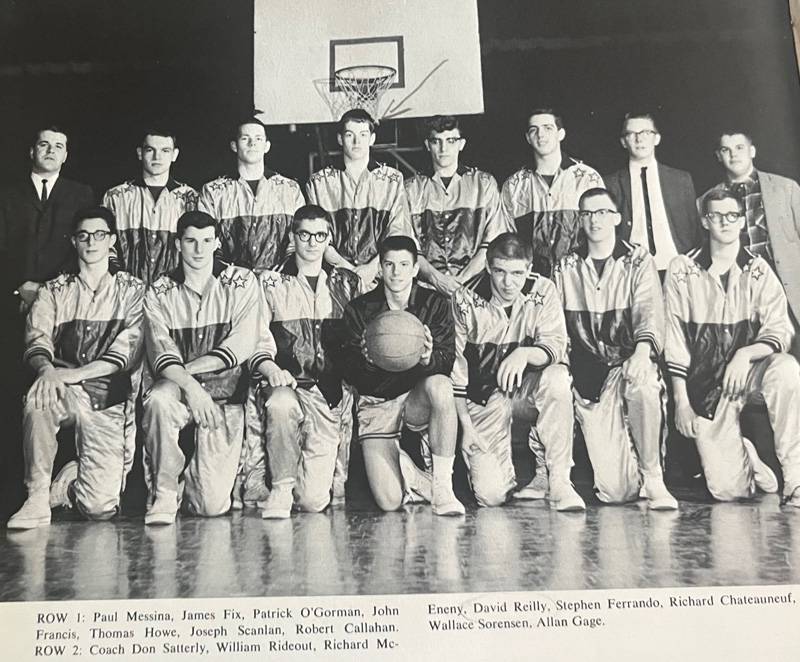 Getting On Track
As my senior year and high school days moved toward a close, I still had bad feelings about how basketball had ended. I wanted to do something sports-wise to finish up on a positive note. Baseball was not an option, but some of my friends and teammates from the cross-country team were also on the track and field squad, and they encouraged me to join them.
I had never been a good distance runner, but the coach, the previously mentioned Father Dave Scheider, gave me a chance at running the quarter mile event (now 400 meters) and also being one of the four runners on the mile (today 1500 meters) relay team. Once again, I wasn't outstanding in any way, but I did come in third a few times and helped the relay team be victorious in some meets. 
It was a good positive experience, and I felt like I contributed more than just being the team clown. 
One race I do remember was that I was actually in first place heading to the finish line, and about 5 yards from the finish line, my legs just totally gave out, and I ended up doing a face plant into the cinder (there were few synthetic rubber surfaces back then) track. I think I was able to get up and take third, but the first aid kit supplies of iodine and band-aids definitely got used on the bus on the way home.
My most memorable track experience did not even involve me directly. At the end of the year, All Catholic Meet at the University of Buffalo Stadium, my teammates and I cheered wildly in the stands as fellow senior Dan Martin surprised everyone (except perhaps himself) and won the prestigious mile race. Not only did he beat everyone from our small school division, he also triumphed over more well-known runners from the much larger Buffalo Catholic schools.
We celebrated with Dan all the way back to Batavia on the bus after that stunning upset.
Notre Dame Hall Of Mediocrity
After graduating in 1964, I moved on to St. John Fisher College in Rochester. At that time, like Notre Dame, it was a very small school. Even so, I had no illusions that I could make any of its teams and never bothered to try out. I played some intramural basketball, but that was it. Later in life, I resumed playing basketball with some fellow teachers and friends and am proud to say that I managed to play until age 66.
Of the thousands of students who have played sports at Notre Dame since 1951, I would definitely rank in the bottom ten percent. I guess in my favor would be that I participated on three separate teams and earned a varsity letter in each. I certainly have no regrets (except for my senior year of basketball) and do have pleasant memories of being a participant and teammate with some great guys like Mike Palloni, Jim Heatherman, Dan Martin, Don Andrews, Bill Rideout, Dick McEneny, Jim Fix, Paul Messina, Tom Howe, Pat O'Gorman, Bob Callahan, Joe Scanlon, John Francis and more. 
Overall, playing sports contributed to widening my experiences and bringing me out of my shell of shyness. Go Irish!