May 17, 2011 - 5:40pm
Genesee ARC Scholarship Winners Announced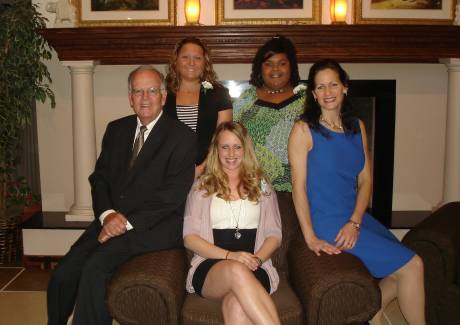 PHOTO CAPTION: Genesee ARC Mary Anne Graney Memorial Scholarship recipients Alyssa Cole (seated), Justine Saraceni and Jennifer Wright (standing) with Charles Graney and Molly (Graney) George.
BATAVIA -- Three teens from Oakfield-Alabama, Notre Dame and Pavilion high schools are the recipients of the 2011 Genesee ARC Mary Anne Graney Memorial Scholarships. The $1,000 scholarship awards were presented at the Genesee ARC Annual Meeting & Awards Banquet to: Alyssa Cole, Justine Saraceni and Jennifer Wright.
A member of the Oakfield-Alabama Class of 2011, Alyssa plans to attend SUNY Geneseo to become a Special Education Teacher. Justine, a resident of Le Roy and senior at Notre Dame High School, will study Childhood and Special Education at St. John Fisher College and senior Jennifer, of Pavilion, is planning to become a social worker and will begin her studies at Genesee Community College.
The Genesee ARC Mary Anne Graney Memorial Scholarship is open to area high school seniors, planning to further their studies in human services, special education or related fields. It is in honor of Mary Anne Graney, a special education teacher, who died in 2004. According to Genesee ARC Scholarship Committee Chair Charles Graney, "The scholarship is a living memorial, honoring Mary Anne's commitment to Genesee ARC and enriching the lives of people with disabilities."
The scholarship program is funded by the Genesee ARC Friends & Family 5K, scheduled for Sept. 24 at the Genesee ARC Day Habilitation Center in Elba.
Congratulations Justine! Could not have been awarded to a more deserving young woman!
Congratulations Justine I am so proud of you! You are an amazing daughter!Be proud of all your accomplishments and I wish you continued success at St John Fisher!!!! All my love..MOM