The holiday season is filled with family, friends, great food… and lots of shopping. This year, skip the big box stores and crowded malls – because Genesee County has something for everyone on your list. When you shop local you can save money and support your neighbors, a win-win for everyone.
Image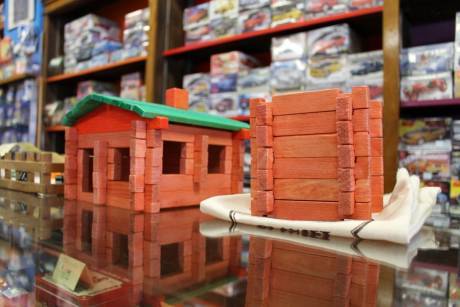 We've got so many great options, where do you start? Well, nothing says the holidays like toys. From classics like board games and bikes, to new trends like fidget spinners, there's no better feeling than watching a child unwrap that must-have toy. And there's no better place to shop for those toys than at Adam Miller Toy and Bicycle.
For 100 years, Adam Miller has been the go-to toy store for all of Genesee County. Reminiscent of a bygone area, walk in and you'll feel transported back to 1918. The original owning family requested the storefront always look the way it did then -- a request the subsequent two owners have happily honored. Inside, the store only stocks those toys that don't require batteries – and there are plenty of them.
Kids will stay entertained for hours with puzzles, brain teasers, coloring books, Slinkys, puppets, plushies and more -- all without the aid of electronics, lights, or noise, and with minimal assembly (making it the perfect gift for parents, too!).
Ditch the remote controls and leave the batteries in the box -- you won't need them this holiday season!
More, more, more!
We know Adam Miller Toy and Bicycle can keep you captivated for hours – but there are so many more stores to explore. Try out these local favorites and start checking items off your list:
Batavia Bootery, 210 Main St., Batavia
Handcrafted with love and care by professionals, Batavia Bootery is the perfect place to stock up on seasonal footwear or pick up a gift that will last for years to come.
Country Cottage, 10448 Harper Road, Darien Center
Have a hard-to-shop-for person on your list? Stop by Country Cottage. With unique gifts, rustic home décor, fresh baked goodies, and unusual crafts, you're sure to find a hidden gem.
Country Hill Home Accessories & Gifts, 11119 W. Park St., Pavilion
Treasures abound around every corner at Country Hill Home! Shop brands such as Vera Bradley, Crabtree & Evelyn, Byer's Choice Carolers, and more.
Craft Supplies Unlimited, 70 S. Lake Ave., Bergen
Whether you're helping someone restock their crafting room, or inspire a first-time crafter, Craft Supplies makes it easy to pick out everything you need – for every kind of craft.
Foxprowl Collectables, 440 Ellicott St., Batavia
Your one-stop shop for everything the collector in your life could want. Browse hundreds of figures, comics, and pop culture items from the 1960s, '70s, '80s, '90s and more, online or in-store.
Hidden Door & Pollyanna & Dot, 202 E. Main St., Batavia
What's better than one boutique shop? Two! Shop homewares, decor and more, or browse the vintage-inspired frocks.
Karen's Yarn Paper Scissors, 220 E. Main St., Batavia
For the knitters and crochet-lovers, Karen's is stocked with yarn beyond your wildest dreams. Or give the gift of a new hobby with Karen's how-to classes on crocheting, wreathes, painting and more.
Northwoods Alpacas, 6499 N. Lake Road, Bergen
While you likely can't give the gift of an alpaca (which is too bad, since they are oh, so soft!), you can give alpaca gear, gifts and accessories -- like socks, sweaters, scarves and more. Browse a wide selection at Northwoods – and don't forget to visit the farm while there!
Oliver's Candies, 211 W. Main St., Batavia
There's no sweeter gift than a goodie that comes from Oliver's! Award-winning candies and chocolates make the perfect stocking stuffer, hostess gift or centerpiece. The holidays also bring out the best in colorful, handcrafted ribbon candy.
One World Projects, 56 Harvester Ave., Batavia
If sustainability is on your mind, One World Projects is the place to shop. Their products are fair trade, compassionate trade, eco-positive, recycled materials, animal-friendly and organic. No matter the selection, you can feel good about this gift!
Sweet Life Country Store, 100 Main St., Elba
Sweet Life is a "sweet" find along any local shopping trip. This little country store sells locally made products – jam, honey, syrup, cards and decorations, quilts and blankets, artist creations – even treats for the pups! You can also find Oliver's Candies products, along with custom-blend coffees -- a pick-me-up after a long day out.
The Divine Tree, 19 Main St., Le Roy
Unique and tasty gourmet goodies are the focus of The Divine Tree. From olive oils and vinegars to honey products – they even have a tasting bar for you to try before you buy! Also find Stonewall Kitchen products, Woodwick candles, leather jewelry and more.
Vinyl Record Revival, 220 E. Main St., Batavia
If you're looking to "just take those old records off the shelf," stop by Vinyl Record Revival for a large selection of new and gently used vinyl albums – and don't miss the $1 clearance room. Used CDs and stereo equipment can also be found here!
For even more great retailers in Genesee County, click here.