September 30, 2011 - 1:28pm
Serious 18-wheeler crash in Le Roy leaves one seriously injured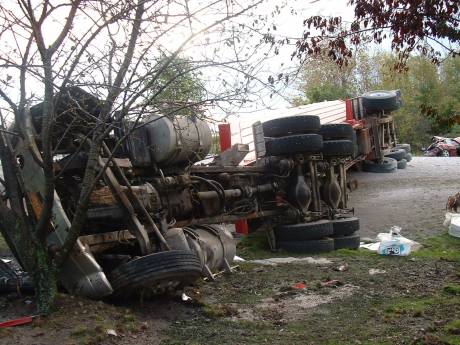 A tractor-trailer rear-ended one vehicle, rolled and slammed into another today on Route 19 in Le Roy, seriously injuring one driver.
The truck was driven by 44-year-old Howard Mcintyre, of Vestal, and was hauling a gravel product from Dolomite Aggregates in Le Roy. Mcintyre was northbound, going over the I-90 overpass, when a red 2008 Mazda driven by 22-year-old Gregory Wodzicki slowed in front of him.
Mcintyre was unable to stop his truck and rammed the Mazda, forcing it off the roadway. Then as he tried to correct, his wheels caught a deep culvert on the west side of Route 19. The truck flipped and landed on its side, skidding long-side-first down the roadway.
That's when 55-year-old Patricia Ireland, southbound in a 2006 Chevrolet Impala was struck. Ireland's car took the brunt impact of the flying stone product and the swinging trailer. Her vehicle's front end was destroyed and the car pushed back about 150 feet.
Ireland became entrapped in her mangled vehicle and had to be extricated. Le Roy Fire Chief Mike Sheflin estimates the extrication took roughly 12 minutes from responders' time of arrival. Ireland was Mercy Flighted to Strong Memorial Hospital in Rochester with serious injuries. 
Meanwhile, the truck partially left the roadway and burst into flames. Mcintyre was able to escape the flaming wreckage, but suffered internal injuries. He was taken to Strong via ground ambulance.
The driver of the Mazda, Wodzicki, and his passenger, 23-year-old Jason Hightower, both of Rush, suffered minor injuries and were transported via ambulance to Strong.
No charges have been filed. The investigation continues this afternoon. Route 19 was closed for about four hours, but has been re-opened.

CLICK HERE for video coverage from WBTA News.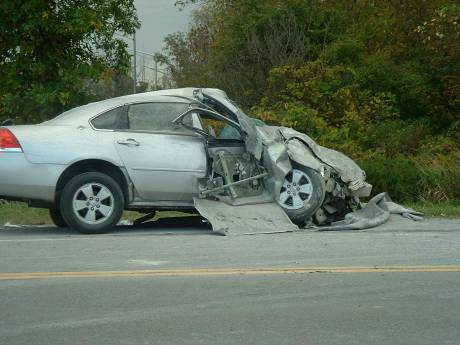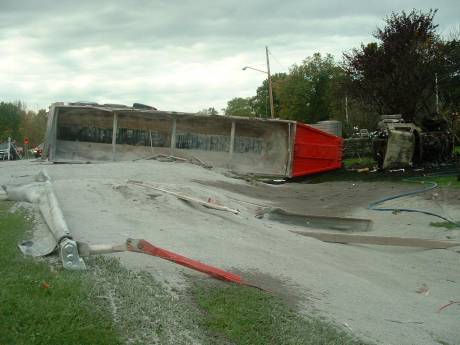 October 1, 2011 - 3:23am
#1
dolomite drivers drive like idiots. end of story.
October 1, 2011 - 6:55am
#2
JT, I travel Rt 33 to 490 into Rochester and back every work day and most of those trips are done on motorcycle. I think the majority of truck drivers on the road drive like crap. They tailgate, pass on the right, drift over lines...etc. I see it all every day. In fact, I think most drivers drive like crap, in a truck or not. When slowing down on a highway such as Rt 19, you should make sure nothing is going to hit you from behind. Why would anyone let someone rear-end them? If the trucker is tailgating you, signal way ahead of time and watch him/her drop far behind you, fast. I see the majority of drivers staring at their lane about 20' out in front of their vehicle. They're oblivious to what's down the road, behind them or to their sides. They start to make lane changes and only THEN signal or look to make sure it's safe to do so. Riding motorcycle has really taught me to watch what other drivers do and anticipate their every stupid move.