March 9, 2021 - 11:29am
After injury to Porter, O-A falls to York 52-47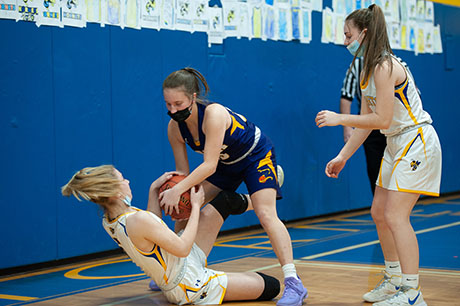 One of Oakfield-Alabama's most consistent scorers, Danica Porter, suffered an injury in the first half of Monday's Class C2 sectional quarterfinal against York, and while it's hard to say Porter's injury changed the outcome of the game, the shootout did go down to the final seconds. 
MaKena Reding scored 14 points, Brooke Reding 11, and Kelsey Schlagenhauf had eight points and 11 rebounds. Emma Wray scored eight and had nine rebounds. Porter had three points and three assists.
Sydnee Emerson scored 20 for York. Adison Plank scored eight.
The Hornets entered the tournament as the #2 seed at 8-3 and York was the #7 seed at 7-3.  
Photos by Kristin Smith. For more photos, click here.