Image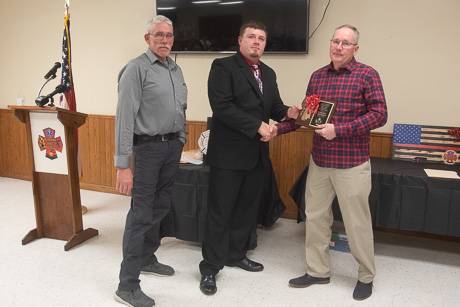 Winter Storm Elliott blew into the Town of Alabama again on Saturday night, this time in the form of memories and accolades for first responders during the Alabama Volunteer Fire Department's annual installation and awards banquet. 
Alabama Fire sheltered 40 people during the storm, among them the district's own president, Wendy Allen-Thompson, who stopped at the fire hall after she couldn't make it home in the storm.  She helped organize the storm response at the shelter. She was impressed by the response of department members as well as the stranded travelers she met during the storm.
"It's a memory of my Christmas and my birthday that I will never forget as long as I live," Allen-Thompson said. "I'm so happy I had the privilege of being a part of it."
Joe Bradt, manager of the Alabama Hotel, which also sheltered travelers during the storm, presented a check to the department for $2,500 -- the amount of money donated by the travelers who rode out the storm at the Hotel.
"What you guys did, I mean, we were there, and we were open, and we fed the people, but you guys got them there," Bradt said."That meant more to us than anything else."
The department received 369 dispatches in 2022, said Chief Gary Patnode. There were only two house fires.  Winter Storm Elliott was by far the biggest event of the year for the small, all-volunteer fire department.
It was a storm that was hard emotionally on firefighters, who, by instinct and training, rush to help people.  Alabama's members felt overwhelmed at times, as the storm raged and whiteout conditions prevailed, throughout the northwest portion of Genesee County, the chief said.
"When we get the call, and you know that there are 150 open 9-1-1 calls for vehicles that need to be cleared, and you can't see your hand in front of your face, you get overwhelmed with that helplessness feeling," Patnode said. "It's just because we're all Type-A personalities. We want to help people, and when you can't physically see to go out where it's safe, you feel helpless."
But Alabama's volunteers were ready and willing to give a rescue a try every chance they got, Allen-Thompson said. 
"I can't even begin to describe the heroism of these guys,"  Allen-Thompson said.  "You couldn't see anything. You couldn't drive. We were getting phone calls from stranded motorists. We had a bunch of them here that were stranded. People were calling 9-1-1, and they weren't getting help as fast as they wished they could, for obvious reasons, and so they just started looking up the number for the fire hall, and they were calling us. Rob (Crossen) would take the call, then another call, and then another caller. And he'd look at me, and I'd look to him, and I think we were all just getting pretty scared that people were gonna literally perish out there in their cars. So it was quite an experience, to say the least. We had people outside working, all these guys were out there in the cold, turning red, beet red, working on trying to help people, and they go out and bring a couple people back."
Crossen was tireless in his efforts, Allen-Thompson said, rescuing seven people, driving his truck with the driver's door open, one foot on the running board, peaking through space between the open door and the windshield to help improve the visibility as he drove.
He and the other volunteers brought back all kinds of people -- people from China, from Canada, from Russia, and other foreign lands. 
"We were a melting pot, which is unusual for this area for us," Allen-Thompson said. "I really enjoyed that a lot. I learned a lot. The one guy specifically who made the best rice I've probably ever eaten."
There was one man who was particularly impressed by Crossen.
"Rob kept going and going, and I still remember because it surprised me when a man said, 'you know about Rob Crossen? and I said of course,' but that really got my attention," Allen-Thompson said. "'Yeah, I think I do.' He said, 'Wendy, Rob told me he is 77 years old.' I was like, I couldn't believe it, and he said, 'Yes, Rob told me several times he is 77, and he was driving to save us.'"
Crossen's efforts during the storm are one reason he was named Firefighter of the Year.
Photos by Howard Owens.  Top photo, Todd Thompson and Ryan Thompson present Rob Crossen with the Firefighter of the Year Award.
Image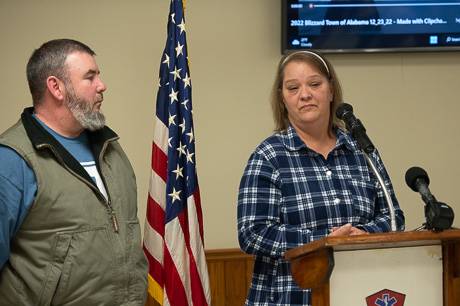 Jerry and Karen Johnson, along with their three children, were special guests of the department for the dinner. The family sheltered 20 stranded travelers during the storm.
Karen said events started for them around 4:30 p.m. on Friday when a State Trooper knocked on their door.  His vehicle had been stuck in front of his house for five hours and he only just realized there was a home at his location.
"He goes, 'we got several strange motorists out here.' I said, 'Well, we have a heated shop if they need somewhere to stay, please bring them in.' And he was like, 'well, we're not at that point yet.'"
About an hour and a half later, he said he needed to start bringing stranded motorists to the Johnson's shop.
"One of them was literally at the end of our driveway for five and a half hours, and we didn't even know," Karen said. "We couldn't see him, couldn't hear him."
By the end of Friday night, there were 22 people in the shop plus two state troopers.
"We're like, 'what are you gonna feed these people?' Karen said. "We'll do the best we can, you know. Unfortunately, that night they had a dinner of macaroni and cheese and frozen pizza."
Like other shelter locations, the travelers came from many parts of the world.
The Johnson's children helped entertain the children who came to the shop.
"There was a little girl who was seven years old," Karen said. "She and her family, there were six of them, they were on their way to Hawaii. She got to go in the house most of the time. She played games. My children kept her occupied.  When it came time to go, she looked sorry.  She looked at her dad, and she goes, 'This was better than going to Hawaii.'"
There was a bit of a Christmas miracle in the Johnson household during the event, Karen revealed.
"For the first time, my kids pulled together for three days," she said. "No arguing."
For The Batavian's complete coverage of Winter Storm Elliott, click here.
Image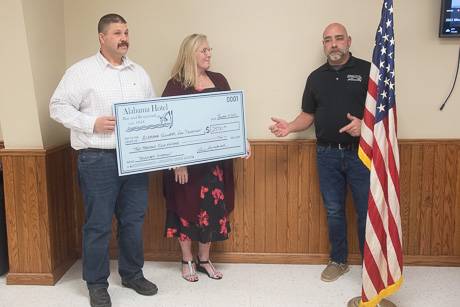 Gary Patnode and Wendy Allen-Thompson receive a $2,500 check from Joe Bradt, general manager of the Alabama Hotel.
See also: Alabama has its own Christmas story to tell, and stranded travelers aren't 'home alone'
Image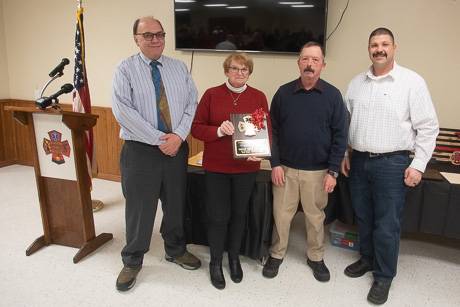 The Indian Falls Volunteer Fire Department was recognized with the Service Award, presented by Chief Gary Patnode. The award was in recognition of the support on mutual aid calls provided by Dave Olsen, LuAnn Mileham, Chief Ed Mileham, and Matt Delre (not pictured) as members of the Indian Falls department.
"Alabama Fire, like many other agencies, struggles to answer 9-1-1 calls during the day," Patnode said. "For many years these individuals have played a vital role in Alabama Fire being able to respond and answer your calls while providing the necessary patient care until the ambulance arrives."
See also: County's smallest department kept travelers fed, warm, and safe during Winter Storm Elliott
Image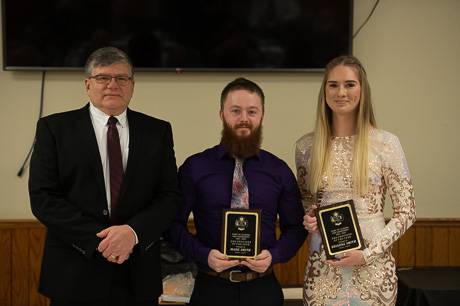 Terry Thompson presented the EMS awards to Mark Smith and Brianna Smith.
Image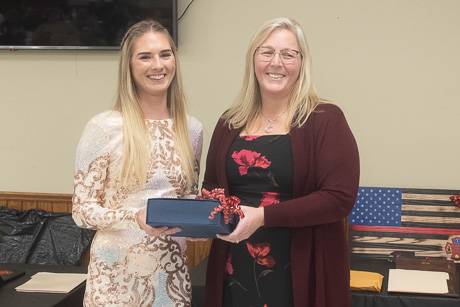 Brianna Smith received the "Rising Star" award from Wendy Allen-Thompson.
Image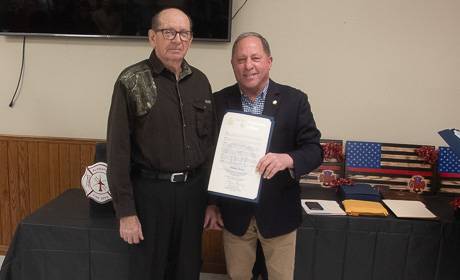 Sydney Eick was honored for 50 years of service to the department, which included a proclamation from Assemblyman Steve Hawley, and for responding to the most calls in 2022. 
Image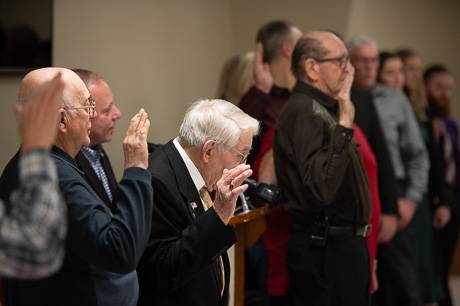 Assemblyman Steve Hawley administered the oath of office to the elected and appointed officers of the Alabama Volunteer Fire Department.
Elected:
President, Wendy Allen-Thompson
Vice president, Joseph Uhrinek
Chief Gary P. Patnode
Treasurer Tony Mudrzynski
Secretary, Leah Thompson
Board of Directors: Richard Brunea, Henry Mudrzunski, Gary L. Patnode, Allison Thompson, Ryan Thompson
Bell Jar Secretary, Clayton Fry
Hall Steward, Terry Thompson
Appointed: 
Deputy Chief, Sid Eick
1st Assistant Chief, Terry Thompson
2nd Assistant Chief, Ryan Thompson
Captain, Todd Thompson
EMS/Fire Captain, Richard Brunea
EMS Captain, Brianna Smith
EMS Lieutenant, Mark Smith
Fire Police Captain, Henry Mudrzynski
Image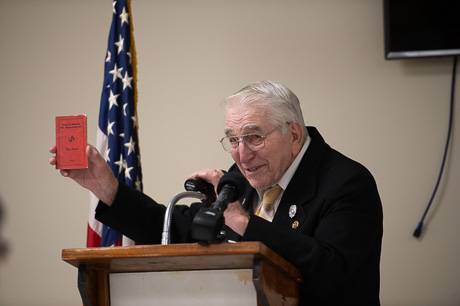 Henry Mudrzynski gave a talk on the history of the department, which included showing off the bylaws from 1950.
Here's a video produced the Town of Alabama Highway Department about the storm.