September 29, 2016 - 5:27pm
Alexander brings families together for Math & Movement night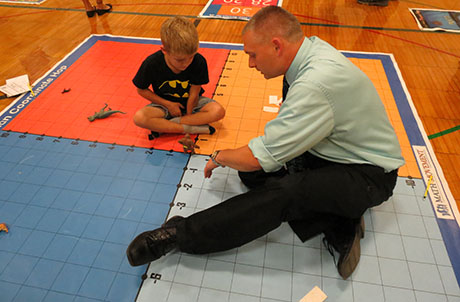 On Wednesday night, Alexander Elementary School hosted an event designed to bring families together to have fun with math, called Math & Movement. It is a multi-sensory approach to teaching math and reading the uses physical activity and visual elements.
The program uses specially designed floor mats and banners that enable students to hop, walk, crawl, or dance their way to mastering math and reading concepts.
Among the reasons for a program like this is that eight of ten children are what's known as kinesthetic learners and the program taps into a child's natural kinesthetic learning style.
The program is based on research that shows that moving during learning facilitates muscle memory, an important factor with younger children whose abstract thinking skills are not fully developed. Studies show this type of activity allows teachers and students to feel more energized, focused, and prepared to learn.
Information and photos provided by Matthew Stroud, principal of Alexander Elementary School.