February 11, 2018 - 3:34pm
Alexander wrestler wins Section V title, two awards at tournament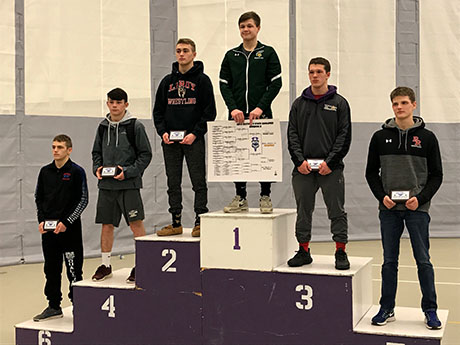 Alexander wrestler Nick Young won a Section V title yesterday at 132 pounds and will advance to the state championship rounds.
Young beat Le Roy's Andrew Englerth on a 7-2 decision.
He was one of two Section V champions representing local schools. Josh Barber won at 285 pounds for Attica/Batavia.
Young now has four class sectional championships making in the most decorated active high school wrestler in the area. 
He's qualified for the state tournament four times. Earlier this year he placed fourth in the Eastern States tournment. He's ranked #2 in the state in his class.
Besides winning the title yesterday, he won the Brad Paddock Memorial Scholarship Award and Most Outstanding Wrestler of the tournament.
Submitted photos.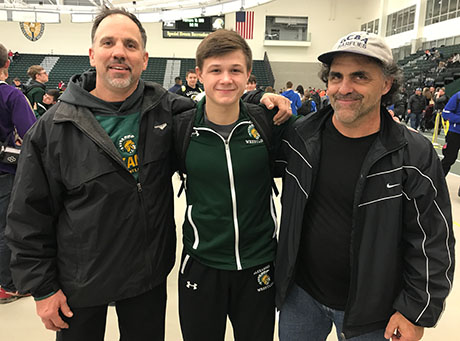 Coaches Tom Aldinger and Dee Gugel with Nick Young.
February 12, 2018 - 8:35am
#1
Congratulations to Mr. Young. This is no small feat. Where is the coverage of the 285 wrestler from Batavia? He is only a sophomore. It isn't often that a Batavia wrestler stands atop the podium at this elite level. Congratulations to Josh Barber. I actually watched the match from Ohio; my sister used her phone to allow me the honor. Good luck to both of these wrestlers at the State Tournament.