January 21, 2018 - 4:22pm
Among South Byron Fire's awards for 2018, one for 65 years of service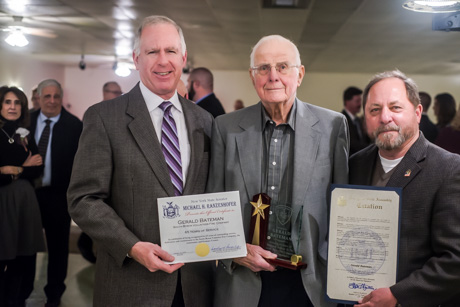 Among the honorees at South Byron Volunteer Fire Department's annual dinner on Saturday night was Gerald Bateman, who was recognized for 65 years of service to the department. State Sen. Michael Ranzenhofer and Assemblyman Steve Hawley were on hand to honor Bateman's service to the community.
The 2018 firematic officers are: Scott Blossom, chief; Brian Hickey, deputy chief; Jim McKenzie, assistant chief; Chase Cone, captain; Andy Konieczny, 1st lieutenant; Matt Dougherty, 2nd lieutenant; Nicole Bold, engineer; Reggie Macdonald, fire police captain; Elizabeth Blossom, fire police sergeant; Steve Sharp, fire police corporal.
Administrative officers: Dean Bates, president; Reggie Macdonald, VP; Elizabeth Blossom, secretary; Alfred Klycek, treasurer; Bob Fite, membership chair; Al Secash, bell jar chair; Allison McKenzie, sunshine chair; Rev. Harold Coller, fire chaplain.
Auxiliary officers: Theresa Hammer, president; Beth Wilson, VP; Melody Stone, secretary; Michelle Yasses, treasurer; Irene Fite, sunshine chair; Theresa Hammer, party chair; Mariellen Blossom, chaplain.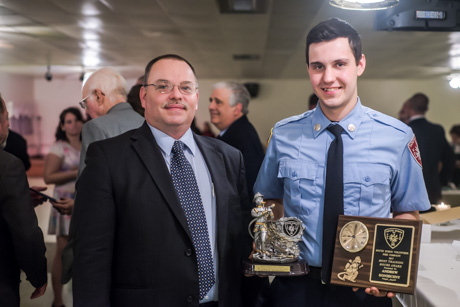 Chief Scott Blossom presented Andy Konieczny with Firefighter of the Year and Most Training Hours awards.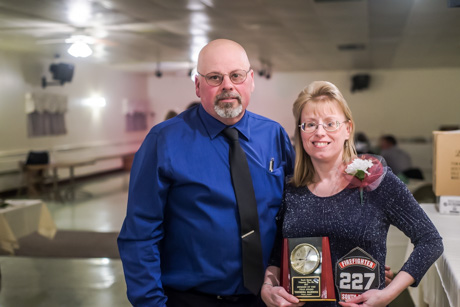 President Dean Bates presented Theresa Hammer with the Member of the Year award.