May 12, 2017 - 2:54pm
ARC awards scholarships to four students planning on working with people with disabilities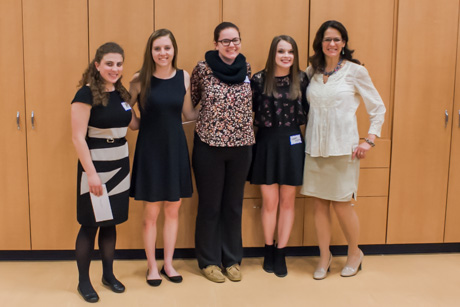 Four area high school students were honored by the Arc of Genesee Orleans on Thursday night at the agency's annual meeting with scholarships from the Mary Anne Graney Memorial Scholarship Fund. The scholarship is awarded to students interested in working with people with disabilities.
The scholarships were awarded to Natalie Bigelow, Batavia HS, who plans to attend Daemen College and study Physical Therapy; Alyssa Weaver, Pembroke HS, who plans to enter a Physician's Assistant Program; Hannah Bowen, Notre Dame HS, who plans to attend Clarkson University, and she will pursue a career in Psychology; Marlaina Fee, Byron-Bergen HS, who plans to study Elementary Education at Geneva College, with a focus on Special Ed and Sign Language.
Representing the schoalrship fund was Molly George.