May 19, 2016 - 9:48pm
Assembly members hear concerns on protecting rights of people with developmental disabilities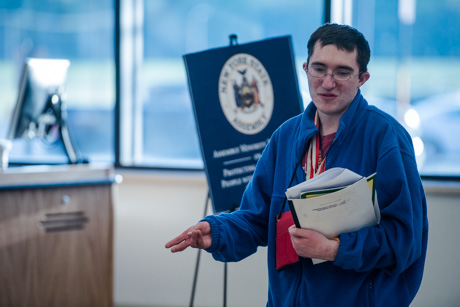 Joshua Derrick speaks Thursday evening during a forum at GCC on how best to protect the rights of people with disabilities and how better to assist them in the communities where they live.
The forum was hosted by Assemblyman Steve Hawley and is part of a series of nine forums around the state conducted by the Minority Task Force on Protecting the Rights of People with Developmental Disabilities.
The forum focused on improving ways to support the rights of people with developmental disabilities, expansion of community-based care programs, the effectiveness of current transition plans for people in sheltered workshops and identifying whether the input and desires of people with disabilities are being appropriately considered.
"Information gathered at the forum will help us to better serve the needs and choices of people with developmental disabilities," Hawley said. "For many, the transition process to a more integrated work setting has resulted in frustrations and disappointing changes in services and care programs. New York must do a better job of assessing and meeting the needs of individuals with developmental disabilities."
Also attending the form were Assemblyman Clifford W. Crouch and Assemblyman Bill Nojay.