October 18, 2018 - 3:14pm
Batavia Kiwanis, Batavia's Original team up to bring back Halloween parade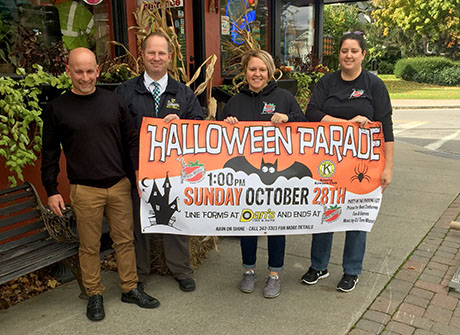 Press release:
Batavia's Original Pizzeria and the Kiwanis Club of Batavia are thrilled to announce they have partnered together to bring back the Kids' Halloween Parade.

The parade is going to be held on Sunday, Oct. 28th, starting at 1 p.m. The lineup will begin in front of Dan's Tire & Auto at City Centre Mall. Kids should arrive a little early to get their place in line.

The parade route will end at Batavia's Original parking lot where there will be a variety of games and snacks for kids, live music, and prizes given for the best costumes.

The Kiwanis Club and Batavia's Original are excited to bring back this free family friendly event to the community!  The event is going to take place rain or shine so please dress appropriately.

Call 343-3303 for additional details or questions.

Kids' Halloween Parade Route:

Starting in front of Dan's Tire & Auto (on the backside of City Centre Mall) the kids will go straight until they reach Washington Avenue, where they will take a right. The parade route will follow along Washington Avenue and then take a left onto Ross Street and a quick right onto East Avenue.  From East Avenue the kids will take a right onto Vine Street, then a left onto Chase Park, followed by a right onto Elm Street.  The route crosses Main Street and takes a left into the Batavia's Original pizzeria parking lot.
Photo provided by WBTA.