October 11, 2017 - 3:57pm
Batavia Middle School's B-Square visits Batavia PD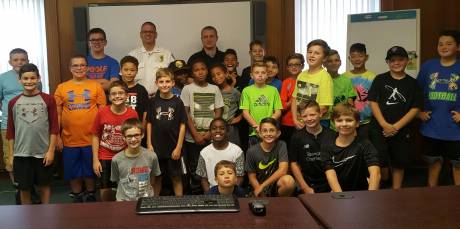 From Sarah Gahagan:
Yesterday's destination for B Squad was the Batavia Police Department. We ran 1.35 miles and met up with Detective Matt Wojaszczk and Assistant Police Chief Todd Crossett. Both men enjoy running and staying physically active. They spoke about how critically important it is to lead a healthy lifestyle, especially with their demanding jobs.

One of the highlights of this visit was discussing the importance of developing and maintaining a good reputation for yourself, one that you can be proud of. Remembering to surround yourself with positive individuals who are going to lift you up, rather than drag you down.

While job hunting and looking for college recommendations you want to stand out and shine. Outstanding qualities like honesty, punctuality and good decision making are all highly sought after. This starts with the choice of how you represent yourself in school, in public and even when you think no one else is watching.

Each of our B Squad boys practiced a firm handshake and graciously thanked our two local heros! It was a great opportunity!