April 12, 2019 - 3:06pm
Batavia PD's Frank Klimjack retires after 28 years in law enforcement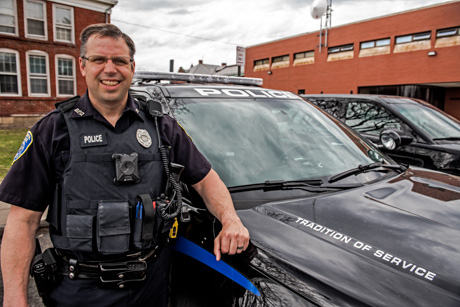 Officer Frank Klimjack called out of service for the last time this afternoon, ending more than 20 years with Batavia PD and 28 and a half years total working in law enforcement in the state.
The Buffalo native served in the military before taking a job with the state parks police in New York City. From there he transferred to Long Island, then Western New York, and then decided Batavia was a good place in the middle of Western New York to settle in and call home.
"I've had a good long career and I'm leaving on a high note," Klimjack said. "I could have done a few more years but just the way things worked out, it's a good time to go."
He's loved living and working in Batavia, he said.
"It's a great place to work," Klimjack said. "It's a great community. It's got its up and downs just like any community but it's a good solid community. A great place to raise kids."
Klimjack and his wife have bought a home in Tennessee and will relocate there soon and he told us with a smile, "I'll be down in Tennessee spending my New York State pension and paying a lot less in taxes."
April 14, 2019 - 10:55am
#7
Mr. Klimjack spoke the truth. My extended family moved south decades ago and many people are feeling the same way after a long and relentless winter. The fact that the Klimjack's will more than likely be paying HALF the property taxes for the same valued home is an enticement that created the blueprint they follow. A blueprint that is likely to snowball as the taxes rise. Government big and small needs to shink. Not keep taxes down CUT TAXES DOWN!!! Not stay within the cap! We need a mandatory CONTRACTION!!! According to the press releases regarding employment the local government is growing at an insane rate as we suffered a loss of 400 people in the county over just the last year. Can you politicos wrap your heads around reality? We are losing hundreds of people yearly! While you strangle the golden flock. You like to think your a catalyst for growth but the truth is your addicted to OUR money and spend it like a crack head who stole his mother's purse. Your not a life ring, your an anchor!
People shouldn't have to pay rent at all to the government for their home! And pay more if they fix it up. Addicted! Good luck to the Klimjacks. He's just the messenger. Those of us who stay and accept the status quo are the fools. Let's not accept it.