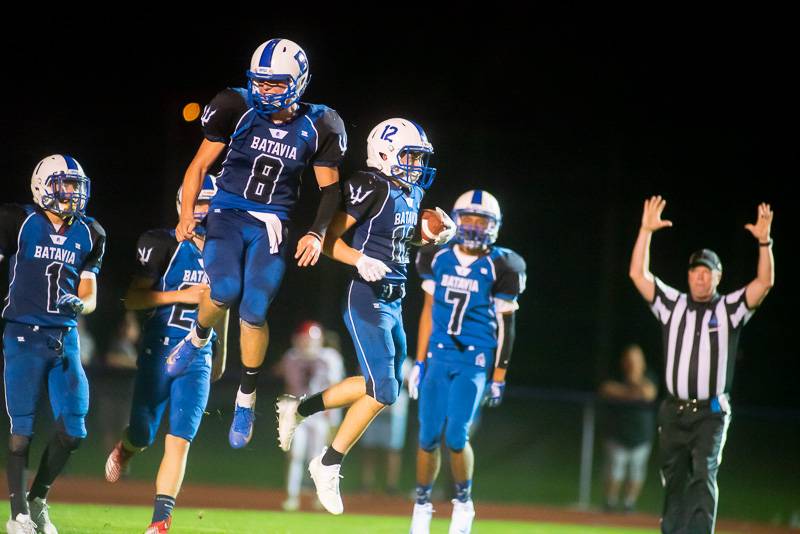 Fall is in the air, with the return of school, football games, and security guards at VanDetta Stadium.
The city school district issued a reminder letter this week about proper protocols during games at the sports venue, including extra security, wanding for "unauthorized" items, and monitoring parking. 
The district's Board of Education has hired the firm Armor Security for the past two years to provide on-site security and wanding checks at the entrance, and Batavia City Police officers also provide coverage during games.
"Security at large gatherings has become more of a focus for police departments and school districts across the country as well as ours. We have increased security efforts or police presence at nearly all our special events and details, including BCSD's home football games and other BCSD events that are projected to draw larger attendance," Chief Shawn Heubusch said. "The ability to respond quickly and to effectively address any matter that may present itself at large gatherings is key to keeping the event safe and orderly. We take the safety and security of these events very seriously and enjoy a great working relationship with the District to make them as safe as possible."
The district's school resource officers also provide "enhanced security" in and around Van Detta and at other large events, he said. Their salaries and overtime costs are paid through the district as part of an agreement with the city of Batavia, he said. 
Superintendent Jason Smith said that this year's letter is a reminder of similar policies as last year, with the addition of also sending a copy to each school that Batavia will be hosting this year. The Blue Devils will be hosting Wayne Central at 7 p.m. on Friday. 
"We continue to draw a large crowd at each home game, and the District is being both proactive again and reminding our supportive community members of our procedures that we successfully implemented last year. We also want our fans to park courteously to our neighbors, and I know our neighbors appreciate these efforts," Smith said.  "Safety continues to be a major district priority, and with our home games drawing such large crowds, it only makes sense that we continue to implement these proactive measures." 
The district began to charge a $2 fee for games last year, which is used to cover costs associated with hosting home football games, Smith said. 
All of these security efforts have a price tag — a fee of $29 an hour per Armor Security guard at about five hours each per game, plus the time/overtime of city police officers and SROs. Those numbers were not available by the time of publication.
The district letter is below:
Dear BCSD Families, 

With the 2023-24 school year in full swing, we are excited to announce that our state-of-the-art facility at VanDetta Stadium will once again be hosting athletic events.

We continue to make safety our number one priority for students, staff, and community members attending events at VanDetta Stadium. We're anticipating large crowds throughout the season, and we want to make you aware of the enhanced safety protocols, guidelines, and expectations when attending our Varsity Football games:

All attendees will be wand-checked by our security team to ensure no prohibited items are brought into the facility.

VanDetta Stadium is located in a neighborhood, so please be courteous and do not block driveways, throw trash on the ground, or use foul language. Please be a good neighbor. Parking regulations will be strictly enforced by the Batavia Police Department.

All students ages 12 and under should be accompanied by an adult.

We will be charging adults a $2 admission fee for all Varsity Football games. Students and seniors ages 62 and over will have free admission.

We suggest you arrive early to avoid security delays upon entry.

We'll also continue to have a security presence around the stadium during events. We're once again collaborating with Armor Security this year to help support our administrators, athletic event workers, and the Batavia Police Department to make sure safety remains a priority at our events.  

We cannot wait to welcome you back to VanDetta Stadium for another exciting season of Blue Devil events and cheer on our wonderful student-athletes. Let's all do our part to keep our school grounds, students, faculty, staff, and community safe. 

Thank you,

Jason Smith, Superintendent
Timm Slade, Acting Director of Health, Physical Education and Athletics