Image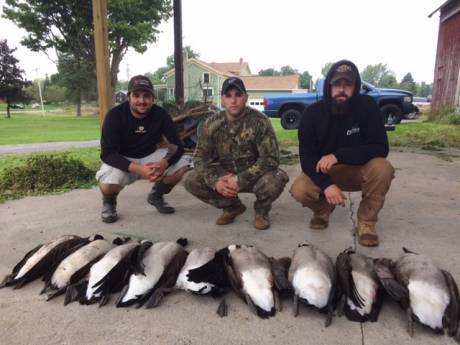 Photo and story by Alex Feig, with our news partner, WBTA.
Operation Injured Soldiers was hosting military veterans for the beginning of geese-hunting season at the Wounded Warrior House in Orleans County from Wednesday through Sunday this week.
OIS as it's called by volunteers, began its presence in the Batavia area around six years ago when veteran Edward Spence got together with several other vets in the area, one of which was Floyd "Skip" Hulburt.
"Ed Spence and I and a fellow veteran, we had talked about establishing OIS in New York, and once it was established Ed Spence just took off with it."
Skip had just gotten back from another successful hunt but his focus was on a fellow soldier, "My main focus was Jack who is a Vietnam veteran. This is his first time waterfowl hunting so I wanted to get him into it and see how he likes it, and that's a lot of why I do this. I'm not as bad (off) as some of these guys. I'm pretty mobile still."
Jack Olson, a Vietnam vet, lives just down the road from the Warrior House and was very grateful for the opportunity.
Olson said "I had a good time, I enjoyed it.  Great people, great guides, great veterans I was with.  All good, all good, nothing bad I can say."
Olson. like many veterans. is not just receiving help but is providing for others like himself.
"I think more people should get involved in veterans organizations and volunteering at the Batavia VA," Olson said. "I am myself a volunteer at the VA and it's a very rewarding experience and there's always stuff to do. Somebody will find something for you to do at the VA."
For more information on Operation Injured Soldiers, you can visit www.injuredsoldiers.org or message Edward Spence on Facebook.