August 25, 2017 - 4:06pm
Batavians come together to answer hate and bigotry with calls for peace and unity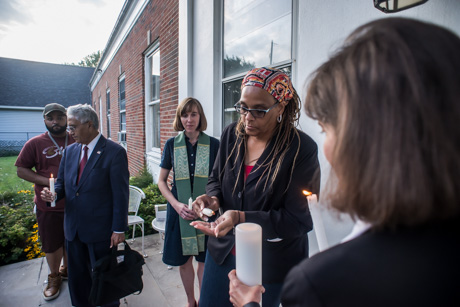 More than 200 local residents came together Thursday night at the YWCA on North Street, Batavia, to share words of peace and unity in response to the message of hate and bigotry in Charlottesville, Va., two weeks ago.
Speakers expressed both hope that our society can learn to live in harmony, and anger at chanted slogans and actions of the white supremacists who descended on Charlottesville.
Rev. Sheila Campbell recalled the murder of Heather Heyer, a counter-protester who was killed when a car allegedly driven by a white supremacist drove into a crowd of people, whom she celebrated as a hero who confronted the reality of injustice and inhumanity.
The last social media post by Heyer, Campbell said, was, "If you're not outraged, you're not paying attention."
Heyer, she said, was paying attention.
"The call for the removal of the Confederate statue was a cry for help and she responded in love by standing on the line of justice and equality," Campbell said. "Heather chose to stand on the side of that which unites humanity, which is encased in compassion and empathy. She made the ultimate sacrifice and her name will be forever etched in the annals which recall the blood of the slaughtered voices of justice."
Diana Kastenbaum, a Batavia resident and local business owner, openly confronted her own fear and anger sparked by what she saw on TV in Charlottesville and what she judged to be an inadequate response from some elected leaders and some in the media.
"Don't kid yourself," Kastenbaum said. "This march was not about statues and permits. It was about a group of people marching for equality and another group marching for superiority. There is no moral equivalency."
There were those, she said, who were slow to denounce the bigotry and hate, and even those who did denounce racism while glossing over the overt anti-Semitism, such as the neo-Nazis marching with tiki torches chanting, "Jews will not replace us."
She recalled driving to work the Monday after the protests and seeing two different pickup trucks driving in Batavia flying the Confederate flag from poles in the beds of their trucks.
"One pickup truck was parked in the same driveway of the house where three men on a darkened porch Heil Hitlered my family and I as we left Rosh Hashanah services last year," Kastenbaum said. "From that incident, I knew they were anti-Semitic. Now I know they are also racists. I wondered how many more Confederate flags I would see that day."
Brandon Armstrong, a local business owner, said he came to say a few words about racism.
"I can live my life and not worry about someone who hates me, but I need to know if I go to apply for a job am I going to get the same treatment as everyone else?" Armstrong said. "And if I do get the job, am I going to be treated fair or am I going to get the loan from the bank? See, it's not all about hate."
He said there needs to be a better understanding, and a better response, to what it is that holds poor minorities back from greater achievement, whether it's what they can and should do for themselves, or what needs to be done to help those who can't help themselves.
Other speakers included Father Ivan Trujillo, Dr. Mohammed Rumi, Pastor Jim Renfew, Pastor Ruth Warner (who also played a rendition of "What a friend I have in Jesus" on her oboe), Stan Schumann, president of Temple Emanu-El, and Jeannie Walton, director of the YWCA.
Rev. Roula Alkhouri, of First Presbyterian Church of Batavia, one of the event's organizers, helped open and close the vigil.
She said she was stunned about the news coming out of Charlottesville two weeks ago.
"I didn't know how to respond," Alkhouri said. "I was afraid. A part of me was afraid. As a woman. As an Arab-American. I thought of the fear that people like me experienced because of the hate of others. So I didn't know what to say, what to do. How do I respond? Do I even dare speak up? But then my faith, the example of Jesus in my life led me to say you have to speak up. You have to say something, you have to stand up for what is right.
"And these words from Romans 12:21 came to me. 'Do not overcome evil by evil but with good.' And so I thought what is good in this moment? I thought of the good that comes from us coming together, our standing and say we can love across the boundaries that separate us or seem to separate us, of race, of religion, of different wants or thoughts or political persuasions. We can come and say hate has no place in our country."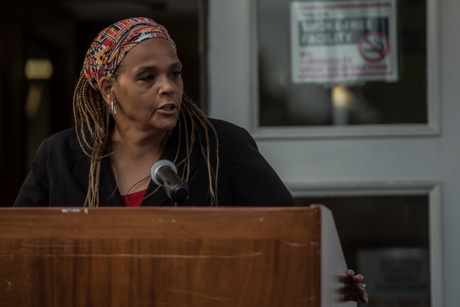 Rev. Sheila Campbell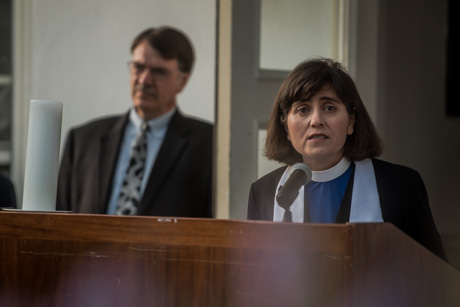 Rev. Roula Alkhouri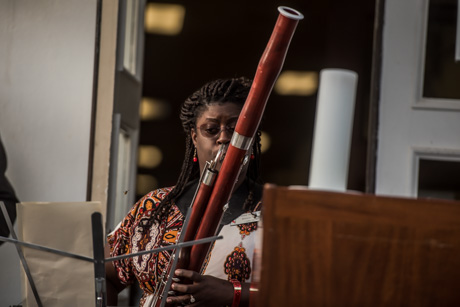 Pastor Ruth Warner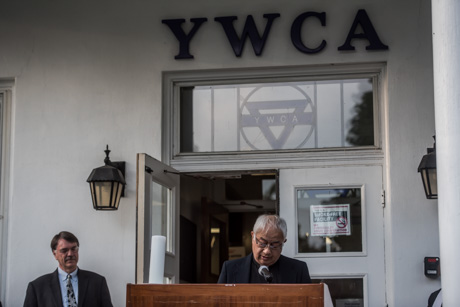 Father Ivan Trujillo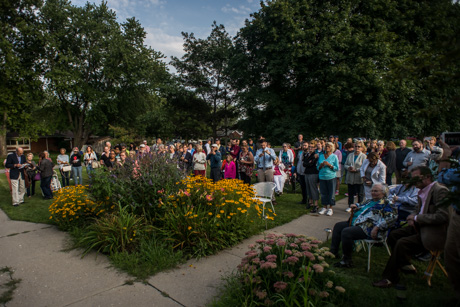 Brandon Armstrong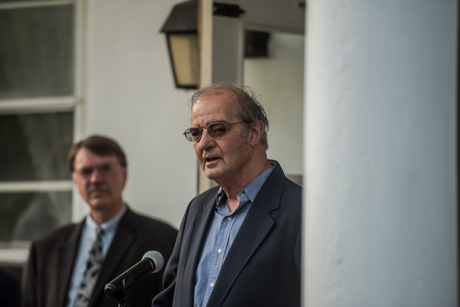 Stan Schumann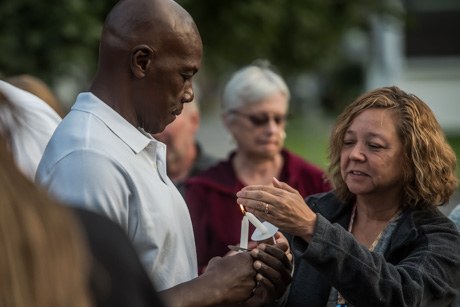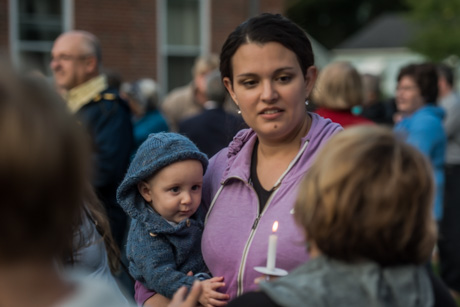 August 26, 2017 - 1:33am
#1
While the overwhelming majority of people condemn the happening in Charlottesville, I don't believe the "trying times" are over, by any means.
"Don't kid yourself," Kastenbaum said. "This march was not about statues and permits.
That's true. But, there ARE other marches going on that ARE about statues and commemorative plaques.
From http://www.nationalreview.com/article/450500/seo-destroying-confederate-...
"Up in Boston, a writer hints that the city should remove local statues of historian Samuel Eliot Morison (who "used language in his writings on slavery that chafed readers"), Henry Cabot Lodge ("a staunch believer in American imperialism"), and even, I kid you not, Abraham Lincoln. (Thomas Ball, who sculpted the latter, wouldn't let a black man into the house to pose for the statue, which depicts a freed slave kneeling at the president's feet.)"
and,
"Once every Confederate monument in the country is down, what then? How is a statue of an ordinary rebel soldier in Durham, N.C., more offensive than a gorgeous building-sized tribute to slave-owning racist Thomas Jefferson on the Tidal Basin?"
There's even some talk of removing the film "Gone with the Wind" from retail, and placing it in a museum.
As President Trump said, "Where does it end?"
Do we rename NYC? It is, after all, named after the Duke of York. I'm pretty sure the Duke of York conquered someone, somewhere, so, he's probably hated by somebody.
NYC Mayor De Blasio is contemplating removing commemorative plaques and statues of "controversial" historical figures. He has publicly stated that Christopher Columbus will be one of the first to considered for removal. And, De Blasio is not alone in his thinking. Melissa Mark-Viverito, the city council speaker and a supporter of Mayor De Blasio, said: "Christopher Columbus is a controversial figure to many of us particularly in the Caribbean and I think that that has to be looked at, when you have to look at history we have to look at it thoroughly and clearly."
Nancy Pelosi's father, Thomas D'Alesandro Jr, was the mayor of Baltimore, from 1947–1959. Isn't it ironic that, on May 2, 1948, Mayor D'Alesandro spoke at the dedication of a monument to honor Confederate generals Robert E. Lee and Thomas "Stonewall" Jackson.
Who knows? Perhaps that's why Nancy's eyes flutter at the speed of hummingbird wings.
The Statue of Liberty was a gift from France. Do we knock it down, and, replace it with a statue of a dolphin? We KNOW that the French were colonizers (and, conquerors) of many regions. So I would think there are peoples that dispised the French. In fact, I remember hearing several comedians say that, "Everybody hates the French!" So much for french toast and french fries. Restaurants will have to change their menus to read, "skinny potatoe slices, dipped in hot grease", and, "fried bread that has been coated with egg batter".
Closer to home, what's to become of the Holland Land Office Museum, or, the city's name, Batavia? The Dutch were major conquerors around the globe, back then. I'm pretty sure they didn't have the indigenous people vote on whether it was OK for the Dutch to take over vast areas of land.
Will this be the last year we can peacefully celebrate Thanksgiving? Will the "left" be angry that our forefathers sailed over here and, basically, overran the indigenous peoples? Will they jam the streets, shouting, "NO MORE CRANBERRYS!"
Maybe it'd just be easier to expunge liberals. Hey now! There's a thought.