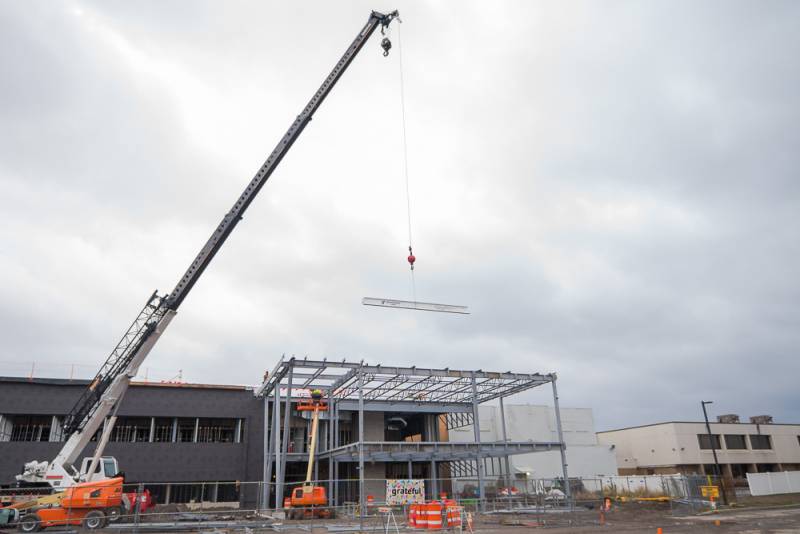 About two dozen people — construction workers, staff, donors and officials — braved bone-chilling winds and huddled in the parking lot of the future Healthy Living campus Monday morning to observe a final "topping off" ceremonial step for the project before a ribbon-cutting next fall.
It was an auspicious, though perhaps quiet and unassuming, moment for those who have poured so much time and effort into planning, fundraising, and promoting the impending merged site for United Memorial Medical Center's Healthy Living and YMCA at 213 East Main St., Batavia. 
"Today is a really important milestone in this project for the healthy living campus and what we're going to be able to do for the community by raising the last beam and taking the next step and getting this project to completion," said Dan Ireland, president and chief operating officer of the Fingerlakes Rural Hospital for Rochester Regional Health. "Next fall we look forward to cutting the ribbon and really starting to combine services with YMCA."
Ireland and Rob Walker, CEO of YMCA, spoke briefly about the importance of this event as another marker for a project that will serve the community for years to come. It has taken a lot of fundraising and effort for the facility, and they shared the same excitement for being "poised" to "make a huge difference in the community," they agreed.
"The key thing about today was just lifting up the partnerships, that we're doing this together. It's been a long journey through a lot of challenges and COVID, and the cost escalations, but we've carried forward," Walker said. 
The pandemic, supply chain issues and delays have pushed the project cost up to nearly $34 million, up from $33.5 million, he said.
But once completed, it's going to be a beauty to behold, he said, filled with a children's Adventure Room, indoor playground, intergenerational room filled with interactive games, a large upstairs track, and swimming pool equipped with underwater benches for swim lessons, a splash pad, and wheelchair and walk-in access.
There will also be universal pre-kindergarten, morning daycare and after school classrooms that will serve the needs of day camp in summer, plus supervised childcare with options for parents to drop off their child for a Friday evening dinner or shopping trip, expanded hours and universal standards to bring everything to beyond Americans with Disabilities Act code, he said. 
There's an expectation that the current membership of 3,000 is going to double with all of the increased amenities, which include more convenient parking right behind the new facility. 
A larger group of about 100 people stood in a similar spot during a groundbreaking in July 2022. By August of that year, the demolition of Cary Hall, which once housed Healthy Living programs, was a visible cue that another stage of the plan had come to fruition after so much of it had been on paper with grant applications and blueprints and such.
Parking lot grading, building of foundations and then installing the structure all came piece by piece for the 78,000 square-foot facility for the last 15 months, capped off by Monday's traditional beam-signing. That was followed by a crane hoisting the beam up to the second floor and workers putting it into place. 
Defined as an integrated medical and wellness facility, the campus is to include state-of-the-art exercise equipment, a teaching kitchen, 22 exam rooms and two medical procedure rooms for primary care, telemedicine appointments, behavioral health and crisis intervention support, cancer prevention, chronic illness, and community education services. 
The site will serve as a one-stop-shop for many health concerns and fitness goals, officials have said.
Ireland was reluctant to "put a pin" in the month they would designate for a ribbon-cutting, as construction projects can certainly fall out of line with perfect schedules, he said. But fall of 2024 seems like a safe bet. 
In the meantime, work will continue throughout the winter on the facility's interior after it is fully enclosed, David Ciurzynski of Ciurzynski Consulting, LLC said.
Ireland has been pleased with how the project has been moving along lately, he said.
"They're really working to get anything closed that they need to, and the weather's been on our side," he said. "We've actually had some pretty decent fall weather, not withstanding the snowflakes today."
Photos by Howard Owens
Image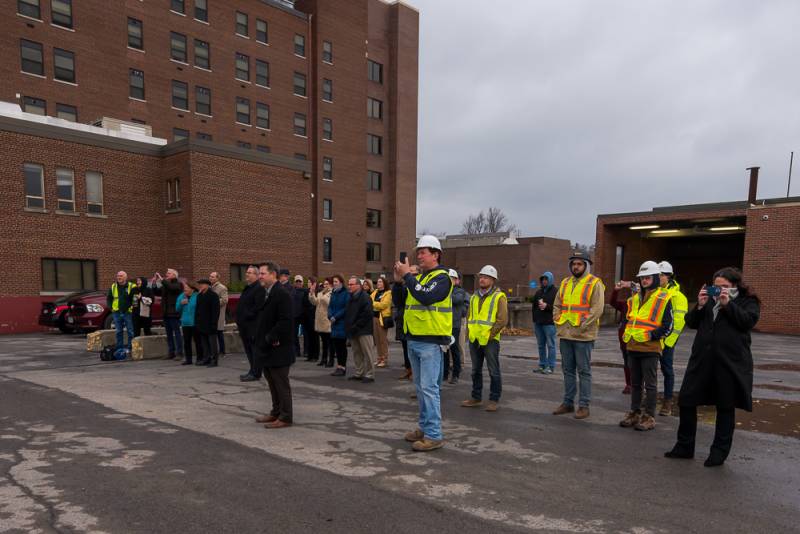 Image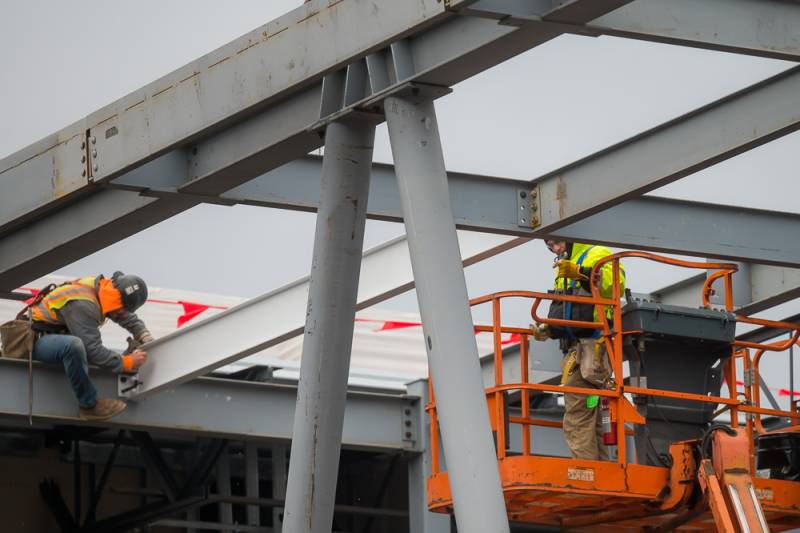 Image