August 9, 2018 - 11:26pm
Batavia's Original owner celebrates 30 years of doing what she's loved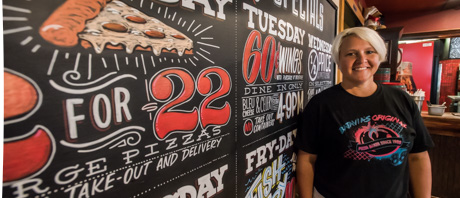 Thirty years ago, Kathy Ferrara walked into Pontillo's thinking she was just taking a job to help her get through college at GCC.
She never left.
Today she is the owner of the successor to Pontillo's, Batavia's Original.
On Wednesday, she celebrated that 30th anniversary with friends, customers and employees.
"I loved it from day one," Ferrara said. "I look back and I wouldn't have changed any of it. It was a great environment. I made lots of friends through customers, employees, hundreds of friendships."
Now, she says, she's just doing what she was taught by the Pontillos to do -- take care of employees and serve the community.
"I have pride and it's humbling, both at the same time — to carry on the tradition of hiring students, college students and high school students, and watching them come through and seeing them make friendships here, just like I had when I was starting out."