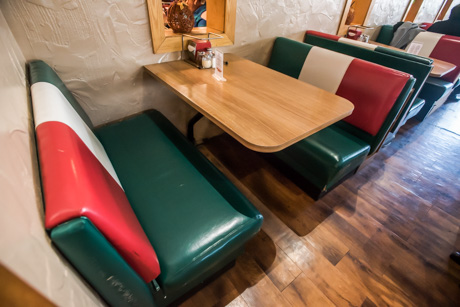 People are lining up to buy a bit of Pontillo's history -- the custom-made, red, white and green booth seats that were first installed in the restaurant 30 years ago.
Batavia's Original owner Kathy Ferrara announced her plans to sell the booth seats and she immediately received several requests from would-be purchasers. She hasn't made any commitments yet. She's waiting for the replacement booths, which will be all black, to come in next week.
"I didn't realize it would be such a big deal to people," Ferrara said.
A number of people expressed concern that she was selling Sam and Betty's booth, the one they always sat in, but it's not for sale and will stay in the restaurant, she said.
She's only selling the ones in the larger dining room. She said she remembers when that dining room opened. She had just started working as a server for Pontillo's and the new booths were installed before even the rest of the trim of the room was completed.