June 20, 2018 - 8:53am
BDC selects new economic director for Batavia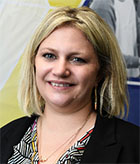 The Batavia Development Corp. Board of Directors agreed this morning to hire Rachael Tabelski as the new economic development director, replacing Julie Pacatte, who left a couple of months ago to pursue a new job opportunity.
Tabelski is a Batavia resident and has been marketing and communications director for the Genesee Economic Development Center for more than seven years.
Board President Pierluigi Cipollone, who served on the search committee, praised Tabelski as clearly the most qualified among a field of five candidates, that included two from Buffalo, one from Texas, and a native New Yorker from the Finger Lakes region who currently works in Massachusetts.
"She came to the interview very well prepared," Cipollone said. 
He said she had a spreadsheet of all BDC's projects, worked side-by-side with Pacatte on preparing the city's successful bid for the state's Downtown Revitalization Initiative project, and clearly understands economic development.
The job offer to Tabelski, with a salary of $67,000 annually, which is $2,000 more than the BDC paid Pacatte, was approved unanimously.
"It's a no-brainer," said Board Member Steve Pies. "She is well versed in our projects and she is passionate about it.
The fact that Tabelski has been working with Pacatte on city projects as part of her job with GCEDC makes her a perfect fit for the job.
"There will be no hiccup," Valle said. "She is knowledgeable about everything. She has a great vision and goals, and she's fantastic."
Tabelski is married to City Council Member Adam Tabelski. Cipollone said the only conflict of interest will be for Adam Tabelski will be on votes related to his wife's compensation. He will need to recuse himself on those issues when they came before the council.
In the discussion, board members questioned whether the compensation was appropriate. Cipollone said that based on his research the salary range in similar-sized cities in the region is $70,000 to $90,000, so the BDC is on the low-end of the scale, he said.  
That prompted Steve Casey to ask if, notwithstanding her ties to the community, a low salary might encourage her to move on to another job sooner rather than later. Cipollone noted the BDC has limited funds to work with and anything paid in salary would mean less available for projects.
Rachael Tabelski will start her new job July 6.