Image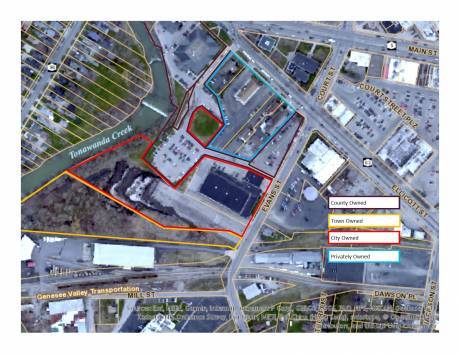 Seven months after approving the acquisition of property between Tonawanda Creek and Evans Street, Batavia Development Corporation received the word it hoped for: yes.
A somewhat unusual sale, this one involved the Town of Batavia, which owned the 4.26-acre parcel tucked behind and alongside the McCarthy ice arena.
Batavia Town Board approved the sale of land this week, and agreed to sell it to BDC for $1. It falls under the name Creek Park LLC, which is a subdivision of BDC, and will be marketed for land development. That is, after the  unknowns are known, she said.
"First step after closing is to initiate the Phase II sampling, which is necessary for determining if there is a presence of any pollutants," Hathaway said Wednesday. "Once results of the sampling are received, the BDC will have a pathway to whether the parcel is to be marketed as a Greenfield or a Brownfield; each offering different developer incentives."
An example is Savarino Companies, which went through Creek Park LLC for its Ellicott Station housing project. BDC worked to get that project into a Brownfield development, which is identified as potentially needing remediation to remove toxic materials, and also comes with financial incentives for doing so.
As for the town property, the BDC has not yet closed on it.
"The conveyance was approved by the Town of Batavia and is currently in the Permissive Referendum period," she said. "This period will expire on April 18; an anticipated closing is to follow as soon as can be scheduled."
BDC uses the city of Batavia's planning initiatives "as our roadmap," Hathaway said, and one is the Brownfield Opportunity Area (BOA) study and program. Since the Creek Park area is vacant and underutilized, she said, the BOA has identified it as a "prime area" for redevelopment.
"The BOA program focuses on adaptive re-use of a site through environmental assessments, followed by clean-up efforts should the parcel be determined a Brownfield," she said. "The Creek Park acquisition follows the mission of the BDC to encourage reuse of underutilized real estate."
BDC voted to pursue purchasing the town property in August 2022.
Map provided by BDC.