January 27, 2016 - 6:48pm
BDC's annual meeting focuses on positioning Batavia to serve aging Boomers and the rising tide of Millennials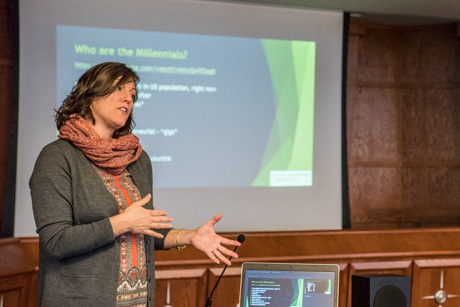 Both Julie Pacatte, economic development director the Batavia Development Corp., and City Manager Jason Molino see a very bright horizon for the City of Batavia when they look five years down the road.
A lot of groundwork has been laid over the past couple of years to help transform Batavia's economy and make it a place where both Baby Boomers and Millennials will want to live, work and play.
"Five years from now we'll see a dramatic difference in the city of Batavia," Pacatte said. "I think we will be a community of choice for the Millennial Generation. We are a more diverse community. There will be confidence in investing in the city whether in your home, your own home improvements, or if it's investing in a property Downtown to attract business. I think there will be a dramatic transformation of the landscape."
The optimistic tone was struck during BDC's annual meeting, which was held in council members in City Hall.
And optimism is one of the key drivers of change and growth, Pacatte said during her presentation.
Molino shares the vision.
In fact, he predicts by the Summer of 2017, Downtown Batavia's skyline will be peppered with construction cranes.
"I think we're at the beginning of a renaissance for Batavia," Molino said. "I say that with one caveat, and that is we need to continue with the forward effort we've put forward in the past few years."
That includes improvements to infrastructure, such as sewers and sidewalks, reworking the zoning code through the general plan update process, supporting the BDC and focusing on brownfield redevelopment.
The city and BDC are feeling pretty good this week about a big step forward on one of its biggest projects, transforming the Santy Tire and Dellapenna properties from blighted eyesores into commercial redevelopment.
The BDC is taking over ownership of the property, a first step toward selling the parcels to private developers.
Pacatte said we should expect an announcement on what's coming within the next 30 to 60 days.
Molino is also proud of the City's Pathway to Prosperity Plan, the first of the kind in the state, uniting the city, the county, the school district, the BDC and GCEDC in an arrangement to use funds generated by PILOT payments to help offset the cost of brownfield redevelopment.
The city has designated 366 acres in the primary corridor as the Batavia Opportunity Area (or Brownfield Opportunity Area), with the ability to offer special incentives to developers willing to turn blighted properties into economically viable properties.
The BDC is the lead agency in that effort.
Besides the tone of optimism during Wednesday's meeting, the overriding theme was, ready or not, the Millennials are taking over.  
In the United States, there are now more Millennials than Baby Boomers and by 2020, Millennials will make up nearly half of the nation's workforce.
And it turns out, Millennials and Baby Boomers aren't all that far apart in their wants and aspirations, putting Batavia in a prime position to serve both.
Both cohorts want livable communities, ones that are affordable, accessible and walkable. While boomers are downsizing, Millennials are conscious of their impact on the planet; boomers seek affordable services, Millennials watch their spending because of college debt loads; Boomers have accumulated the wealth to enjoy community living, Millennials are urban-minded.
Some 64 percent of Millennials want to start their own businesses, Boomers have the experience to be mentors and the means to be buyers and investors.  Boomers are team players, Millennials are collaborative. 
Both are interested in building communities that are engaging and filled with entertainment opportunities. They are interested in communities that offer a sense of place.
Pacatte ended her presentation with three questions for audience members to ponder:
Are we investing in place?
Do you see value in building a community?
How optimistic are you?