July 29, 2018 - 12:15am
Beertavia more popular than ever in its fourth year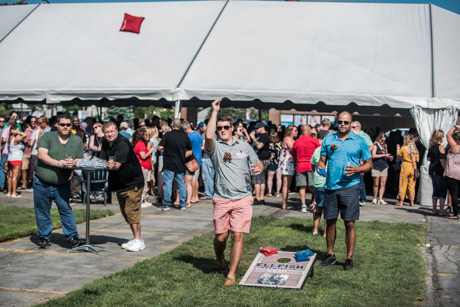 It wasn't all fun and games at Beertavia on Saturday afternoon. There was also the serious business of sampling beers from more than two dozen brewers from Batavia, Buffalo, Rochester, the Southern Tier, the Finger Lakes and beyond.
Four years ago, there were only three brewers participating and 300 people in attendance. This year, at least 700 people attended.
"It's only going to get bigger and bigger every year," said Cory Wolcott, who has been one of the organizers of the event since its inception. "People love it. We run it well. People are happy, so it will grow."
Four years ago, there were no breweries in Batavia and how we have Eli Fish Brewing Company, reviving a local brand that died out 100 years ago. Eli Fish was a lead sponsor of this year's Beertavia.
This is the first year that VIP tickets sold out in advance.
Wolcott said one reason people love Beertavia is it's easy to try so many different craft beers.
"They like the ability to get to a brewery and try their beer pretty effortlessly," Wolcott said. "There are a lot of bigger events but this is like a medium event so you can still try just about everybody who is here without waiting too long or feel like you're elbow-to-elbow with somebody. It's so relaxed but still big enough to enjoy a lot of different breweries."
Previously: Photos: BID's first Beertavia