March 21, 2017 - 7:24am
BHS seniors set to compete in Mr. Batavia competition March 31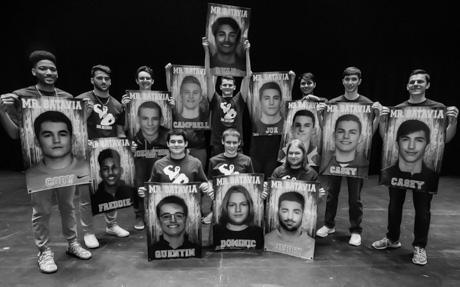 Batavia High Schools annual Mr. Batavia contest is at 7 p.m., March 31, in the school auditorium.
Contestants have been in rehearsals for weeks for the annual event.
This year's contestants and their charities they are competing for: 
Jerry Reinhart, Michael Napoleone Memorial Foundation
Dominic Brown, Iroquois Trail Council, BSA
Campbell Anderson, Red Cross
Casey Radka, Genesee Cancer Assistance
Cody Dioguardi, Ricky Palermo Foundation
Sam Bartz, Batavia VA
Quentin Branciforte, Anna's Wish
Ryan Bieniek, All Babies Cherished
Casey Austin, Collin Crane Memorial
Joe Allegue, Community Action
Freddie Cunningham, Volunteers for Animals
John Currier, Habitat for Humanity
Below, a few shots from rehearsal for the "swimsuit" competition.