September 16, 2016 - 1:21pm
BHS student receives high academic honor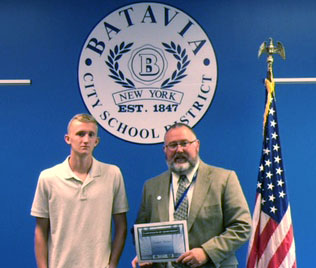 Campbell Anderson, a senior at Batavia High School, pictured with Principal Scott Wilson, has qualified as a National Merit Scholarship semifinalist. As far as Wilson knows, he's the only semifinalist in the region and one of only 99 in Western New York.
Anderson is a candidate for West Point and the Air Force Academy. He's also a standout in track and cross-country. Wilson said one of Anderson's unique accomplishments was completing all of the match courses offered by the high school, including advanced placement calculus, by the end of his sophomore year. The school has arranged his senior schedule so he can also take classes at Genesee Community College. He remains at the top of his class.
Photo and info provided by Scott Wilson.