September 8, 2015 - 11:48am
Bill Fox named Le Royan of the Year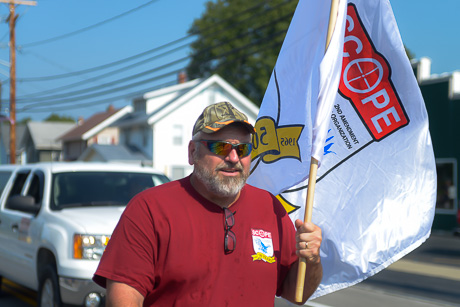 (Photo by Howard Owens; Bill Fox walking in yesterday's Labor Day parade in Oakfield.)
Press release:
The Le Roy American Legion, Botts-Fiorito Post #576, is proud to announce this year's selection for "LeRoyan of the Year" -- Mr. Bill Fox, a well-known local contractor, having maintained his business, "Bill Fox & Son, Construction and Remodeling, LLC" in the area for over 25 years.

Bill is married. He and his wife of 34 years, Anne, have three children, sons Bill Jr. "Billy," and his wife, Mady; Andrew, and daughter Marisa. Billy and Mady have two children, Farrah and Easton. 

An integral part of the community, Bill has devoted countless hours in support of local sports programs, participating when and where he could as his kids progressed through soccer, baseball and football.  He has lent his hand in contributing time and effort to school sports projects including such things as a new trophy case, after a  Section V championship.

He has been instrumental in organizing support groups to meet and "Welcome Back" veterans returning from "Honor Flights" from Washington, D.C., at the Rochester Airport. In addition, he has organized Christmas visits at the Veterans Administration Facility in Batavia and has sponsored ice cream socials there as well.

Bill has a strong interest in community awareness projects and leading educational programs involving hunting, hunter safety and animal awareness. He continues to instruct the DEC Hunter Safety program for youth; and has conducted numerous animal education programs for nursery schools and preschool children in the area.

One of Bill's strongest endeavors involves the "Shooters Committee on Political Education" or SCOPE. Bill has served as the Chapter chairperson for Genesee County for two years and was previously the secretary for three years. He continues to serve as the second vice-president of the New York State SCOPE organization.

Bill strongly believes in several essential principles, the Constitution and our God-given rights and his local community. In his own words: "Being an area businessman myself, I firmly believe that we should shop and do business locally. I am all for helping to keep businesses alive in Le Roy."

For these reasons, and many more we feel very pleased to present Mr. Bill Fox as the 2015 "LeRoyan of the Year," the 47th recipient of this prestigious Award.

Tickets for this year's Award Dinner are available at the American Legion. Cost is $20 per person.