April 20, 2018 - 1:15pm
BOCES students win awards at state leadership conference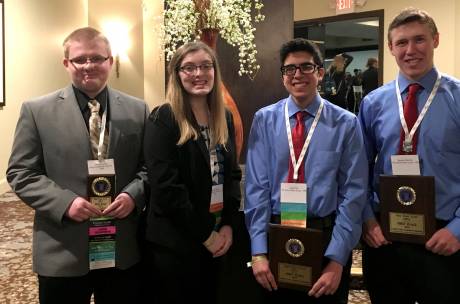 Press release:
Earlier this month, hundreds of high school students from across New York state attended the Future Business Leaders of America (FBLA) State Leadership Conference, which was held in Binghamton.

Students from the Mount Morris and Batavia Career and Technical Education (CTE) centers attended this competition and earned the highest awards in their events. These students proved to be the top student technology experts in the state. As a result of earning these awards, four students have qualified to attend the National FBLA Leadership in Baltimore in late June.

"FBLA is a great learning opportunity for our students, they gain confidence in their abilities and develop valuable networking skills to aid them in their future," said Maggie Poray, Batavia CTE Center Programming and Interactive Media instructor.

Angel Felix and Spencer Herring are Computer Information Systems students who attend the Mount Morris CTE Center. Both are students from Geneseo Central Schools. This team won first place in the Computer Game and Simulation Competition.

This is the second year that Angel has competed in this competition. Last year, he also earned first place in the Computer Game and Simulation Competition. This year's game has a theme, "A Day in the Life of a FBLA student."

"It is a two-dimensional game that is played on a computer. The characters have different activities such as competing in FBLA events and even fundraising. In our game, the characters are also developing a game. We spent six months working on this project which includes two main and 10 other characters," Angel said.

Spencer said, "This was my first year entering the FBLA Competition, Angel and I are a great team. It's an open-world game, which means the player can roam a virtual world and approach objectives freely.

"Angel and I thought about some of the things we do as FBLA students and we put that into the game. We had some programming glitches to work through but we worked together to fix these issues."

"Angel and Spencer put a lot of hard work and dedication into their Computer Game and Simulation competition. They were able to build on the experience from last year to develop their skills in programming, design and problem solving to develop an amazing computer game to present to the judges this year," Poray said.

Larry Harvey, Mount Morris CTE Center Computer Information Systems instructor said, "We are incredibly proud of our students for competing and producing results that will enrich their lives for years to come.

"The Genesee Valley Educational Partnership along with the Future Business Leaders of America organization, believe that the most important skills that we teach are the ones that the students will use far beyond school and into everyday life."

Taylor Tyczka is a Batavia CTE Center Programming and Interactive Media student from Attica CS. She is a junior and was elected as NY FBLA District 10 State Vice President. This is the first time that a student from the Genesee Valley Educational Partnership has been elected as a state FBLA officer.

"I am very excited to be elected for this position," Taylor said. "I worked very hard on my campaign. I will attend state FBLA meetings and serve as a liaison between the schools and chapters in District 10 and the state FBLA.

"I'm very thankful to my advisors and my teacher, Ms. Poray, for providing me with this opportunity to attend this state conference. This is an honor for me to serve."

Donovan Kelley is a Batavia CTE Center Programming and Interactive Media student from Caledonia-Mumford. He earned fifth place in the Computer Applications Competition.