August 15, 2018 - 7:22pm
BPD officers rise to own challenge, raise $600 for PTSD Clinic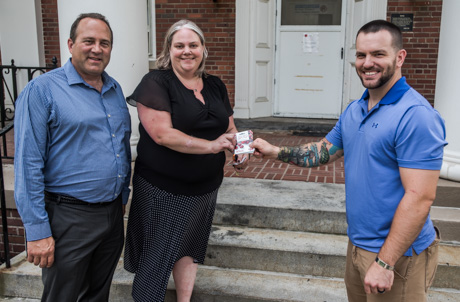 Officer Pete Flanagan, Batavia PD, pictured at right, presents $600 in Tops gift cards to Caryn Dilandro, director of the PTSD Clinic at the VA Hospital in Batavia, and Michael Swartz, director of the VA for Western New York.
Dilandro said the gift cards will be used by residents of the PTSD clinic to make one of their regular family meals -- where they all cook together and dine together, sometimes as a picnic or a BBQ.
Flanagan said the donation is the result of his desire to grow a beard. A year ago, he asked Chief Shawn Heubusch if he ran the GLOW Cup in full uniform if he could grow a beard for a year. Heubusch said he would think about it. This year, Flanagan asked again. This time, Heubusch told him he needed to turn it into a fundraiser and told him to pick the charity.
Flanagan picked the PTSD Clinic because last year he and some other officers weren't able to compete in The Murph through Batavia Cross Training, which was a fundraiser for the clinic, because of injuries.
Each of the participating officers ran in uniform in the GLOW cup and contributed $100 each to the cause. Besides Flanagan, they are Asst. Chief Todd Crossett, Officer Chad Richards, Det. Matt Wojtaszczyk, Det. Eric Hill, and Officer Marc Lawrence.