Image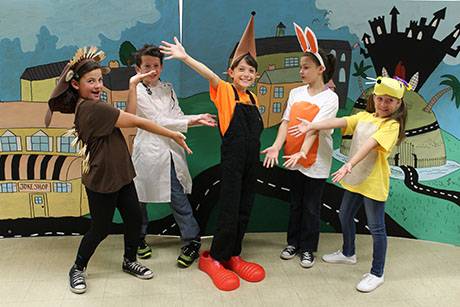 Press release:
On June 19, the Byron-Bergen learning community and the community-at-large were treated to a special stage adaptation of "Sneaky Weasel," a children's book by author Hannah Shaw, performed by fourth-graders.

The show featured the talents of the entire class working together as actors, assistant directors, narrators, dancers, stage crew and scenery designers, sound effects artists, and costume designers. The story centered on an unhappy bully, Sneaky Weasel, who finally discovers how to be a friend.

"Our students have been working on the project for several weeks," said fourth-grade teacher Alyson Tardy, who along with teachers Jenna Carney and Kelly Morriss, wrote the stage play and directed the performance. "They have each contributed their best efforts.

"It's been really great seeing students find talents they didn't know they had, kids stepping up to help each other, and quiet children coming out of their shells to get onstage in front of an audience. The arts are so important for development and this has been a wonderful opportunity for our students to really stretch themselves and shine."
Top photo: "Sneaky Weasel" featured players (l-r) Grace DiQuattro, Joel Lamb, Simone Scharvogel (as Sneaky), Megan Jarkeiwicz, and Katherine Rogoyski.
Image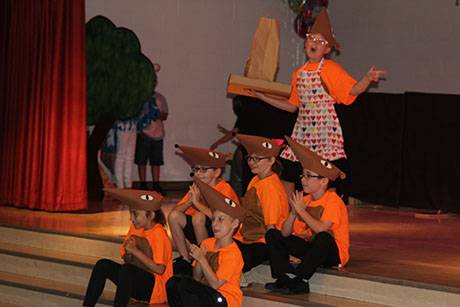 Mama Weasel (Gianna Graff) with all her weasel-y offspring (Madisyn Rodak, Logan Czachorowski, Madison Hutchings, Sidney Maher, and Connor Copani.)
Image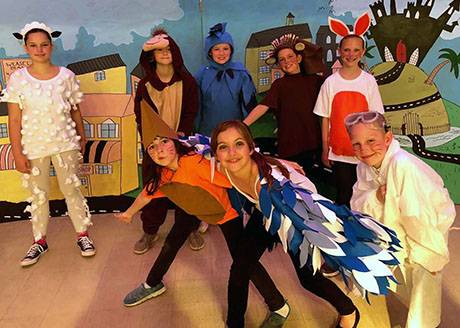 The cast included narrators plus singing and dancing hedgehogs, rabbits, sheep, rats, mice, shrews, dogs, and even a chicken.