November 6, 2015 - 3:42pm
Byron-Bergen elementary students unite behind bully-free message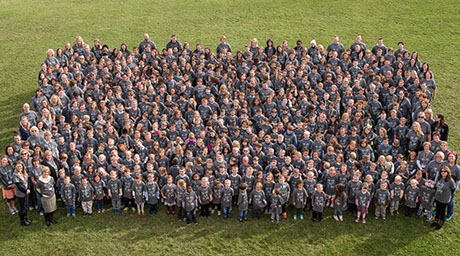 Press release (submitted photos):
For the third year, the Byron-Bergen Elementary School community of students and teachers united to celebrate their culture of diversity and anti-bullying.

The afternoon of October 27 began with a school tradition: the photograph of more than 500 students, taken from the vantage point of the school's rooftop. Their matching anti-bullying T-shirts featured the District's strategic goal for the year, "Creating leaders one student at a time."

After the photo was taken, the school gathered for its annual Anti-Bullying Assembly. Principal Brian Meister started things off with an acknowledgement of the District's recent designation by Character.org as a New York District of Character, thanking the students for making their school a shining example.

Much of the afternoon's entertainment was based on Carol McCloud's award-winning book "Have You Filled a Bucket Today?" "Bucket fillers" say and do nice things and help fill people's emotional buckets with positive feelings, while "bucket dippers" treat others hurtfully and leave them feeling sad and empty. Teachers and students presented a gameshow-type skit, complete with prizes, where student contestants had to guess whether teachers were demonstrating bucket-filling or bucket-dipping behavior. 

The school recognized participants in the 2015 Empire State Games with a special video commemoration of the event and an awards presentation. The proud winners included students: Camryn Brookhart, Robbie Gaylord, John Klafehn, Draven Liles, Chelsea Vanelli, and Emily Yun.

The school's Students of the Month and the Sixth-Grade Safety Patrol also received special honors.

The assembly included music, provided by the sixth-grade choir, a great dance number illustrating beauty in diversity, and a promise from the newest Pre-K members of the Byron-Bergen school community, to support others and report bullying behavior. Older students led the assembly in reciting the Seven Habits from the school's Leader in Me Program, which along with the Olweus Bullying Prevention Program forms the foundation for Byron-Bergenís character-building success. 

For more information on the Olweus Bullying Prevention Program visit HYPERLINK "http://www.violencepreventionworks.org" http://www.violencepreventionworks.org. For information on The Leader in Me visit HYPERLINK "http://www.theleaderinme.org" www.theleaderinme.org.