June 16, 2017 - 5:06pm
Byron-Bergen mom proud of her daughter's elementary school career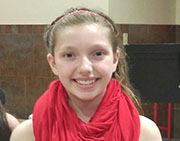 Kendal Phillips, a sixth-grader at Byron-Bergen Elementary school has completed the first seven years of her public education with a perfect attendance record. She's never even been late for school, according to Amy Phillips.
She's also never been dismissed early.
She is a straight-A student, a member of the safety patrol and plays in two basketball leagues. She also plays in a year-around travel soccer team, is a member of the band, chorus, jazz choir, percussion ensemble and Solo-Fest band.
In softball this season, she struck out 128 batters over 47 innings pitched.
She also volunteers in the Byron-Bergen Public Library during the summer.
"As a teacher in a different school district, I feel this is a phenomenal accomplishment," Amy said. "I also happen to be very proud of her as I am her mom!"