December 8, 2015 - 1:15pm
Byron-Bergen students pledge to read 25K books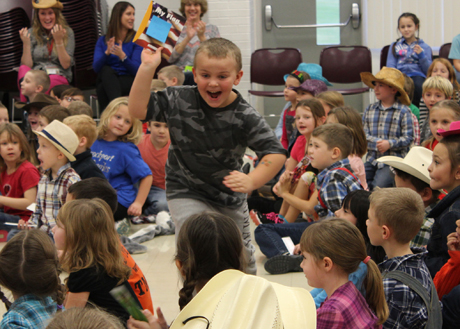 Press release:
The third-annual Reading Celebration at Byron-Bergen Elementary School got off to rollicking start with a farmyard-themed event on Nov. 20. Students were in the mood, wearing straw cowboy hats, overalls, and bandannas. Teachers dressed as cows, pigs, and singing farmhands hit the stage to build excitement for the challenge ahead: reading 25,000 books (almost 50 per student) before the end of the school year.

Students have consistently surpassed their reading goals since the challenge began in 2013; last year beating their target of 20,000 books by almost 4,000.

"Reading really is fun. We want kids to enjoy it and develop the reading habit now while they are young," said Principal Brian Meister. "The motivation this year is the promise of a very special farm-themed reward in June. We'll make all their hard work pay off in an event to remember."

The assembly kicked off with Byron-Bergen parent Alyson Tardy, her backup teacher/singers and the student population singing and dancing to "Read a Book" — a special version of Taylor Swift's song "Shake It Off." Then Assistant Principal Amanda Cook played the starring role in a skit based on "Little Pig Joins the Band," a favorite children's book by David Hyde Costello.

Things got even more boisterous with an enthusiastic gameshow version of Pictionary, with students trying to guess which favorite books were being represented by teacher-drawn pictures. The festive atmosphere continued with a colorful quartet of Book Fairies (more enthusiastic teachers) who awarded a free book to one child from each class. 
Top photo: Reading is fun at Byron-Bergen Elementary School and a new book makes the day complete for student Mace Tyson.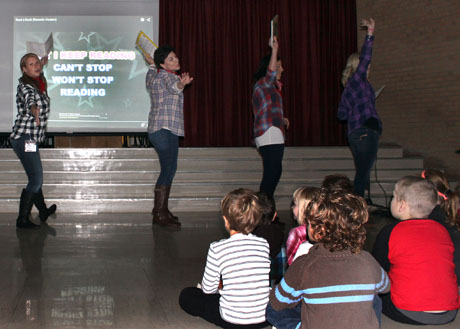 Byron-Bergen Elementary School teachers perform "Read a Book," with a little help from the audience of young readers.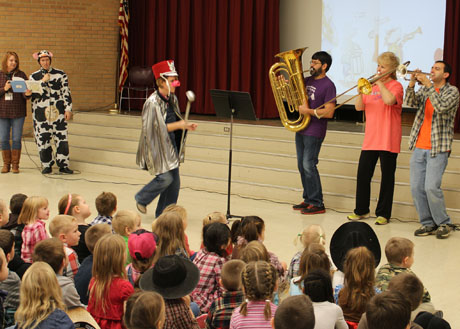 Assistant Principal Amanda Cook puts on a pig nose to lead the band and advance the celebration of reading at Byron-Bergen Elementary.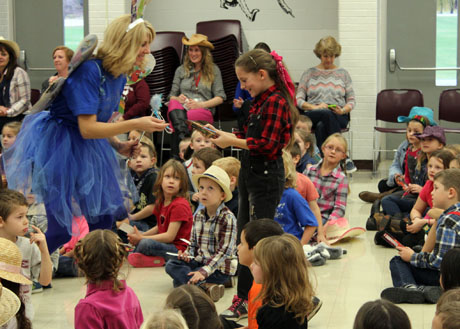 The Byron-Bergen Book Fairies made sure that outstanding representatives from each class got their very own new book.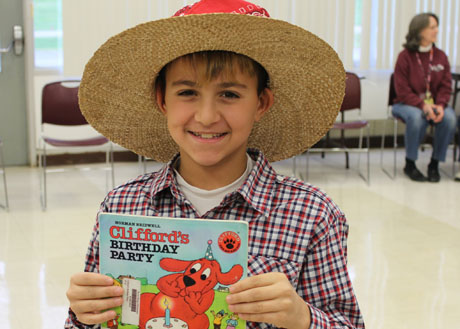 Byron-Bergen student Gianni Ferrara is already well on the way to making sure the goal of reading 25,000 books is reached.
December 9, 2015 - 7:59am
#1
When my boys were that age they brought home forms from the school to buy books to fulfill
the pledge. I bought a lot of books, lots and lots of books. Did they ever read them? Hell no, it was a non binding pledge and they knew it, like pledging to public radio. A lot like abstinence contracts kids sign so their parents will let them stay out all night studying with their closest friend. But the school got a cut on the book orders.